Best chrome extensions 2017 You Must Use to Enhance Productivity
You are probably searching for the Best chrome extensions 2017, that's why you are here at this article.
In our previous articles, we have discussed How To Restart Windows' Explorer.Exe Using Taskbar And Start Menu and How To Make Money Online With Google With Zero Investment
But today we will discuss where extensions in Chrome are? And the best chrome extensions for 2017 that can enhance your productivity, whatever profession you belong to.
Internet browsing is increasing each year. Most of the users want to browse with ease and comfort which can be attained using a friendly browser.
Google Chrome is one of the best browsers available for users. It offers many facilities in terms of its wonderful and amazing extensions.
There are tons of chrome/extensions that are available but many of us don't know about these extensions.
These best Google Chrome apps will help you to make smart browsing in a quick way.
Here, in this article, I am going to discuss the most favorable pack of the best chrome extensions 2017 that you must use to make your browsing more comfortable and secure.
You can also find out the best chrome extensions for students here in this article.
With these extensions on Google Chrome, you can fix many issues, boost up your performance, and increase your productivity.
Before going to discuss best chrome extensions 2017, we will dip our toes into finding "Where Are Extensions in Chrome".
Where Are Extensions in Chrome?
Most of the people who are less with internet knowledge can find these Chrome browser extensions:
Open Chrome Browser
Click on the three doted area on the top right corner of the Chrome
Go to More Tools
Select Extensions
Scroll down to find and click on "Get More Extensions"
Again Select Extensions and then on the text Search bar, you can search and install whatever chrome extensions you want
Try these also:
How to Add Control Panel Shortcut to Windows 10 Right Click Menu
How to Take Screenshot of Complete Web page With One Click
How To Make Adobe PDF And Sumatra PDF Readers To Restore Last Opened Files
How To Access The Most Recently Opened Documents In MS Word 2016
Now let's proceed with our topic the Best chrome extensions 2017 and start discussing each with few details!
The first of the best chrome extensions 2017 is, "Adblock Plus"
For me, the most irritating thing with browsing is the appearance of unnecessary ads.
So, the solution is here in the form of "Adblock Plus" extension on Google Chrome which basically is an open-source project.
It takes you to block ads, pop-ups, Auto-Play sound ads, animated ads, Webmail ads, Video ads, Social Media buttons, malware ads, and all other annoying ads.
You can also block tracking and ham-fisted ads that appear on sidebars of your browser by adding this wonderful extension to your Chrome browser.
Most importantly, if you want to allow some productive ads or static ads to appear on your browser you can customize this extension too.
If you want to add this extension to your Chrome Click Here!
The second and my most favorite from the best chrome extensions 2017 is, "Blur"
Blur is a key extension that fully protects your privacy, passwords, and payments.
You can secure your complete personal information adding this outstanding plugin to your chrome browser.
If hundreds of companies fetching your data as much as they can, still this extension will work for your security. These companies can be blocked with few clicks.
You can be online at any place without any fear of leaking out your personal details.
You can also stop Social Media sites to track you offline.
Blur also works in a fine way to block emerging threats on the Internet.
It provides you a strong ability to create a highly encrypted password for any site because there is a strong algorithm is used in this extension to create passwords.
If you want to secure yourself online, install this marvelous Blur extension to your browser. So, to install this plugin click here!
Click&Clean app is also one of the best chrome extensions of 2017.
It helps you to protect yourself being tracked by the online surveillance.
Basically, it is an online solution for your protection.
It will guide you to enhance your private data security.
It provides you a facility to automatically delete your browsing history at the time of exit from your chrome browser.
If you don't want to be tracked with your Internet activities, this plugin is the best addition to you.
You can also take a privacy test and scan your PC for malware.
If you are interested to add Click&Clean app to your chrome browser, click here!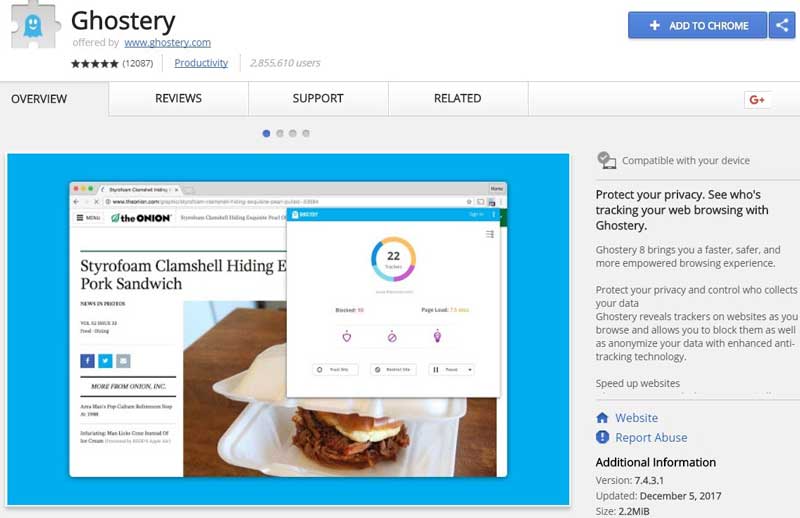 Ghostery is another fine Chrome extension that allows you to block advertising companies which can create a profile around your browsing propensities.
It also brings faster and safer browsing experience to you.
It will also show you how many websites are tracking your Internet activities.
So, it comes up with enhanced anti-tracking technology that easily helps you to block tracking websites.
For more overall privacy install this plugin to your chrome browser.
Click here to add Ghostery Chrome extension.
Google Dictionary is a valuable addition to the pack of extensions of Chrome that provides you a facility to check out grammatical mistakes, spelling, and definitions.
You can also check out the phrase using its toolbar facility.
If find hard to understand a word just double click it and its meaning will appear in a pop-up.
Sound pronunciation is also available in this tool. This is the best extension for the students and professionals who don't understand words quickly.
If you want to add Google Dictionary to your Chrome browser, click here!
This is also a grammar checking tool favorable for students and business professionals who feel difficulty to understand meanings of words quickly.
You can make your content more understandable using this tool.
Mistake free ads, emails, and other documents will increase your confidence in writing more valuable content.
There is a facility to auto-detect the spelling mistakes that can be corrected with a single click.
Many content writers are trusting in this tool to use.
If you want to add this tool "Grammarly For Chrome", click here!
In a case when you are working with too many tabs on Chrome browser, you can save your memory by clicking on the OneTab button you can convert all the tabs in single list format.
In future whenever you need these tabs to use you can access them all at once. You can also access each tab individually.
Doing this you can reduce your system's space also.
It assures about its privacy policy because even developers of this extension cannot get the information about listed tabs.
You'll found it very useful for saving space and time.
Click here to add this wonderful tool "OneTab".
WOT is another amazing and best chrome extension that protects you while you visit any dangerous site.
When you enter into a site press WOT button it will show you all previous experience of the site in the form of user reviews.
With this extension, you can make your surfing, browsing, and online shopping very secure.
This Chrome extension allows you to make right decision to go to the right sites because it alarms you whenever you enter to any dangerous site.
Click here to install this magical Chrome extension "WOT".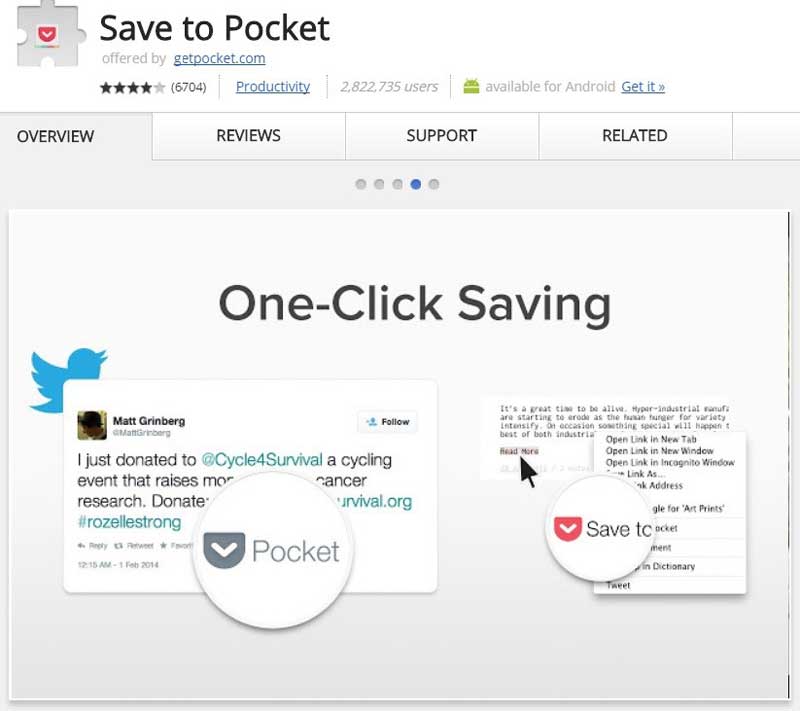 When you see some important content on any site in your busy time schedule you can save that content to see later.
Save to Pocket is a popular and fully free Chrome extension that allows you to access the web-content in offline conditions.
If you are a blogger or a student, this chrome plugin is very helpful for you to get all the contents of your need even in an offline condition.
Just use the keyboard shortcut or right click on the toolbar menu to save the link and the whole page of the saved link will be available in offline mode which you can use according to your time plans.
The premium version of this plugin is also available for more powerful tools experience.
It shows synchronization with all types of platforms such as iOS, Android and many more.
If you want to add this tool "Save to Pocket" to your Chrome pack extensions, click here!
Another great Chrome app is Google Scholar Button.
After adding this to your Chrome extensions list, you can directly go the scholarly new articles without opening another tab.
Actually, this extension adds a button that takes you to the Google Scholar.
You can also transfer your query from the web-search to the Scholar to get more authorized articles.
If you want to install this helpful Google Scholar Button extension to your Chrome extensions, click here!
Google Input Tool is for you, if you want to type in a language other than English, this extension is very helpful for you in this regards.
Basically, this plugin is used for multi-languages.
It provides the virtual keyboards for more than 90 languages. There are different typing modes available such as in-script, transliteration, and hand-writing mode.
You can choose any of these modes according to your ease. You can also customize the keyboard shortcuts which can increase your typing ability.
You can switch to any language with single click and in a similar way you can also switch back easily.
Click here to install this wonderful Google Input Tool extension from your Chrome web store.
Chrome Remote Desktop is an interesting chrome extension from all these best Chrome extension 2017 so far, it allows you to access or allows others to access your computer over Internet.
The other users can remotely access your computer while using chrome browser.
Basically, this extension provides remote assistance to Windows, Linux or Mac users.
It also assures to provide a secured connection while accessing any remote computer.
The computer can be available for short-term ad hoc basis or long-term basis.
You can also control your remote computer with your smartphone if you have installed Chrome browser to your phone.
It is truly a sense-making productive extension that is available in Chrome web-store.
Click here to install this magic tool.
I'm A Gentleman is useful, in case when you have to download huge amount of images this extension will help you to download your required images with a click.
Just hold "Alt" button and click on the required image, that image will be downloaded within a second.
Or select the image you want to download and click on the button presented on the right-top of your Chrome browser, the image will be downloaded to your PC.
Isn't it a quick way?
To add this great extension to your Chrome browser, click here!
The Great Suspender is a magic tool that automatically closes the unused tab to free up you precious RAM.
It makes faster your computer.
It reduces the load on the memory of your PC which results in a better service. Actually, after the configurable time period it automatically suspends the tabs that are not used or opened. In this way your computer will become more responsive and quick.
You can also customize this extension to change the time for the suspension of unused tabs because this tool has very simple interface to use.
If you want to restore the suspended tab, click anywhere on the page and the tab will be restored.
It is so simple and productive extension for the Chrome users.  I personally recommend you to add this amazing tool.
Just click here to add this extension.
Lazarus – Form Recovery is the best from the best Chrome Extensions 2017, very useful that allows you to recover your input data.
For example, you are filling up an admission form and mistakenly you clicked on back button, in normal situation you have to fill that data again from the beginning.
But if you have Lazarus extension, you feel no fear because you can get back your whole data which you filled earlier.
Basically, this extension automatically stores every single word which you type in any type of form on Internet.
It is known as form recovery tool on Chrome browser.
You must install this extension to save your time and efforts. To add this useful tool to your Chrome browser, click here!
timeStats is a Chrome extension that show you time that you spend on your computer browsing different sites.
It categorizes different sites that you visited.
It shows your spending time in the form of different colorful graphs.
You can also manually delete the sites from the statistics of this tool.
It actually traces the time from the sites you visit and collectively shows you all stats of time in one graph.
With this helpful and informative tool you can manage your time for specific site or you can calculate your overall time expenditure on browsing.
To add this tool, click here!

Black Menu is another useful tool from the best Chrome extensions 2017 that provides you a facility to have a direct icon to go to the specific Google service.
After installing this extension a pop-up window will be appeared on the upper corner of your Chrome browser which will contain icons of many popular sites such as Gmail, YouTube, Google Maps and many more.
Just clicking on the icon you can directly go to that site.
This is useful when you are doing any other task or you don't have time to type the URL of the site.
If you want to add this extension in your Chrome browser, click here!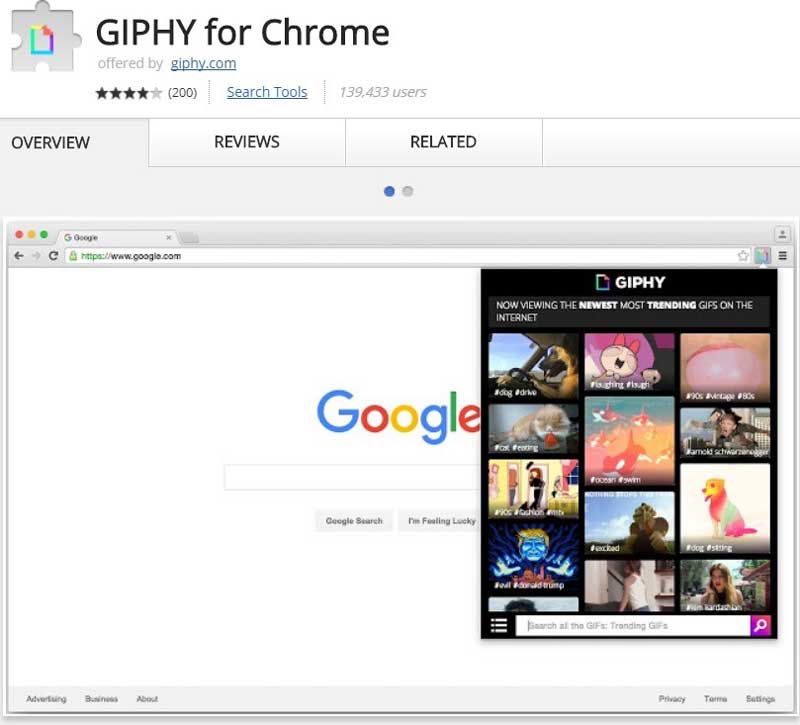 Giphy is a tool that brings the power of GIFs search engine anywhere on the web. Like emoji, GIF is also an important part of Internet zeitgeist.
By searching a GIF you can impress all your friends with your Internet skills. GIF is basically an image format that supports both animated and static images.
Giphy make it easier to find out the best GIF for you which you can use to impress your friends.
If you want to add Giphy Chrome extension to your Chrome browser, click here!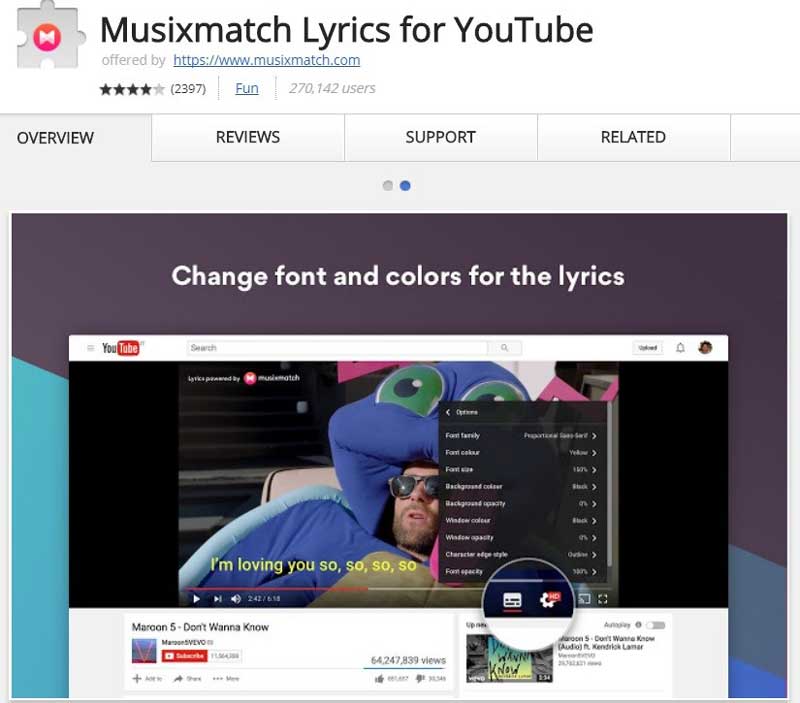 Musixmatch is special type of Chrome extension that automatically allows you to see the lyrics of any video song on YouTube.
You can change the font and color of the lyrics also.
As YouTube is world's largest lyrics catalog that contains over 7 million of lyrics in 32 languages.
So, this Chrome extension shows you live lyrics of any song or video. This is the best extension for musicians and others who love to know the lyrics of songs.
Click here to add this unique Chrome extension.
Full Page Screen Capture is another wonderful magic tool from the best Chrome extensions 2017 that is used to capture the whole web page of any site.
Whenever you need to take image of the whole page of a website this tool will work for you.
I personally using this amazing tool and I also recommend it to you so that you can capture quick image of a web-page easily.
If you need to capture the whole page of a website install it by clicking here!
Bookmark Manager is the last of the best chrome extensions 2017 a unique Chrome extension that is used to book mark a site.
Bookmarking makes Google search easier.
With one click you can save images and notes to your bookmarks to make them more helpful for you.
With this Google Chrome extension you can make your search more improved and accessible.
It also provides options to share your bookmarks as well.
To add this extension, click here!
Conclusion
Eventually, we have discussed a lot on the best chrome extensions 2017, which also include the best extensions for students also.
Make your browser more powerful by adding some workable extensions to it.
Google Chrome is a browser that offers too many extensions which are very helpful and useful in any condition.
Browsing and Internet surfing is increasing rapidly each year which demanding more tools to make smart browsing and surfing.
For this, we have mentioned some valuable and the best Chrome extensions 2017 here so that you can make your browsing more comfortable.
If you are using any other Chrome extension that is more in worth, don't forget to share with me via comments section.