How to Quickly Delete Google Chrome Search History on Android Mobiles
Are you an Android user and searching a solution on Google "How to quickly delete Google Chrome Search History on Android mobiles" then you are at the right tutorial.
If you are an android user then Google Chrome is injected in operating system everywhere. You can have a quick access to Google Chrome by Tapping the Chrome icon, by long pressing the home button or just jump into the launcher and launch the application.
You can also use your voice to open the Google by just saying "Ok Google". Whatever you do at the Google, it creates a new search entry to your android mobile Google's chrome history.
It happens sometimes, that you need privacy and you don't want other people to see your search history.
So you want to delete history and asking questions to others as "how do i clear my browser history on my android phone?
Then you don't need to ask anybody to delete browser history or delete all history because you can do it by yourself through this tutorial.
See how?
You can delete Delete Google Chrome Search History on Android Mobiles with two methods. One is to delete one by one each tab history and the other is cleaning all the tabs in history which you have opened so far. You can also specifically Delete Google Chrome Search History on Android Mobiles for already built in allowed period.
So let's try to clean up chrome search history on Android.
Delete Google Chrome Search History on Android?
How to Delete Search Items One by One?
Deleting a single search entry is not a too difficult task to do. Just follow these steps.
try these:
How To Display Custom Text Message On Windows Startup
How To Access The Most Recently Opened Documents In MS Word 2016
How To Take Screenshot Of Complete Webpage With One Click
How To Restart Windows' Explorer.Exe Using Taskbar And Start Menu
Open Google Chrome by tapping the Chrome icon available at your android desktop
From there, tap the search box—a short list of recently-searched items will pop up
Just long press the entry item you want to delete.
A warning message will be shown up on the screen asking about to permanently delete the search query..? Then press the "Delete" button to delete the entry.
You will find a chronological order of search entries you have made so far! You can delete one by one or the one you feel it should be removed from search history.
How to Delete All History on Android Phone?
Now, if you think you have searched too many things and want to delete history in bulk. Then follow the procedure below.
Open google chrome on your android phone
Open browser windows and navigate to myactivity.google.com, it will lead you towards Google Activity Center
OR
Open Google Chrome Browser >> Settings >> Accounts and Privacy >> My Activity
It may require your password to access this page, then enter the password
Tap up the three line menu at the upper right corner of the Chrome browser windows and select "Delete Activity by"
A menu will appear that will allow you to delete all history from your Google Accounts like images, web pages, documents searched and other various commands. But we have to focus on our tutorial which permanently deletes my Google history.
First, tap on the drop-down box that reads "All products," and scroll down till you see "Search."
If you have selected all the entries accordingly, now you are in a condition to clear your history on your android phone. It will ask you to delete the history of today, yesterday, last 7 days, last 30 days, and all time. So select your desired option and tap on "delete"
A warning message may appear, telling you that "your search history can be important." If you're still not convinced, tap the "OK" button. You can't undo what you're about to do!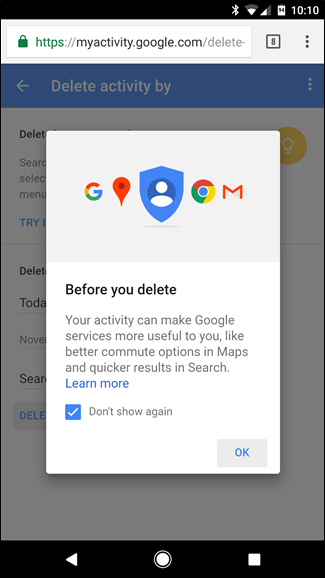 Now, your chrome search history has gone forever with no trace proof!
TheFanmanShow has tried its best to explain the topic "How to Quickly Delete Google Chrome Search History on Android Mobiles" still if you have some questions arising in your mind you can ask us through your comments.