10 Best Content Promotion Tools to Accelerate Traffic For Your Blog
Normally, content promotion is considered an easy way to do but in an actual manner it is not. So here, I am feeling excited to share 10 best content promotion tools with you.
After spending quality time you wrote a standard content for your new blog post. Next, you shared its link on Social Media to gather more traffic.
You re-share it after a week or two but analytics didn't show traffic.
Also, try these suggestions by TheFanmanShow
Here, in this situation, you have to adopt some best content promotion tools or strategies which can boost the traffic to your latest blog post.
For example, when you need social traffic for your post, you must have to apply some right tools, be sure about the presence of Social Media, and Make a plan to flock the traffic using content promotion tools for great outcomes and bring your blog post in front of the right eyes. Without any tool or strategy, you cannot gather traffic from any social site.
Integrating free content promotion tools with your basic content will accelerate the flow of traffic to your blog post.
Here in this post, I'll share the use of these free content promotion sites with you.
10 Best Free Content Promotion Tools That Provide Free and Paid Content Promotion Services
Quuu Promote: A promotional tool to get Traffic and Engagement
If you want to get 100's of shares to derive traffic and engagement to your blog content, you should use this tool for availing content promotion services. It is very effective among all best content promotion tools. You can make this tool a part of the plan to gather huge traffic for your blog post.
Quuu Promote shares your advertising materials on Social Media (such as Facebook, Twitter, LinkedIn, and Google+) with all of its users.
When you load your advertising content into the tool, it shares with all real users who belong to your site.
For example, you want to share some content with SEO focus via this tool it will share the content on social media with real user accounts based on the SEO field.
With the use of this tool, you don't have a need to advertise on Social Media such as Facebook, Twitter, LinkedIn, and Google+.
Spending a few dollars you can advertise with organic and real-time methods on Social Media which is an economical and useful way of marketing.
For 14 days this tool is free to use so that you can understand the tool perfectly before going professional advertising.
If you are interested to use this effective tool free for 14 days or you want more information about this tool click here.
Once you create an account and want to promote your blog post, go to "Promotions" make a click on "Promote Post" to get a start promotion of your blog post.
Now, get the link to your new blog post or advertising material and drop that link on the bar, now click on the blue checkmark.
After that the tool will get your link, import all data from your new blog post into a well-crafted tweet then it shares on Social Media (such as Facebook, LinkedIn, Twitter and Google+)
With this tool you don't have a need to plan promotional plans except for editing text, it will automatically promote with perfect promotional strategies. You just have to provide the URL to your latest blog post and start the promotion.
Next, you have to select a relative content promotion strategy.
Doing this you can share your post with a perfect category for your business or blog. After selecting the category for your business, particular accounts will share your content so select the right one.
For example, you select the "Content Marketing" category.
After the selection of a category, Quuu will show you the previews of your post to make sure they meet the level you need. For this Quuu needs approval from you.
In a case when you dislike the preview you can replace the image or text in seconds.
After this click on "Submit" and watch the traffic level for your post.
After some days of promotion, your post will look like this:
There is also the availability of "Re-promote" just to make it easier for you for future promotions.
You can try it for your latest posts so that you can save time and money. It is a user-friendly promotional tool. Isn't it? Just go and try.
2. BuzzSumo: A Tool for Idea Generation
In the list of best content promotion tools, BuzzSumo is a professional content promotion tool and it provides a way to make strategies according to your competitors.
If you want a standard and effective marketing strategy you have to research for your competitors. This means that you must spy on your competitors and their activities about the products.
Simply, this tool will guide you to look at best-performing social shares and engagements which makes you able you revise the strategies you are already applying. You can easily analyze those shares which are performing well to accelerate the traffic.
By typing keywords or directly competitor's domain, you can search for their activities and latest ideas.
It is the best content promotional tool to generate new ideas just by sharing content on Social Media. So let's start with this amazing tool to avail content promotion services:
Firstly, type the URL of any blog post on the URL bar.
On Social sharing history, you can watch all the results of that specific blog post.
This will share each and every activity of that particular content on Social Media even it will share who is sharing the content and giving backlinks.
By typing the industry keyword on the URL bar you can also make the approach to the content and easily see the activities people are doing with the content.
It shows the most popular and most shared content at the top of the list.
For the purpose of idea sharing, you have to go to the "Trending Now" tab of this tool.
It will show you all viral topics on social media related to your business or blog.
The most important fact of this tool is to watch out for the competitor's best brand or blog post which makes you able to compare your content.
If you are interested to use this wonderful tool which I have listed as the best content promotion tool, click here.

3. Bitly: A Tool for Link Tracking
This tool provides you the diverse tracking and analytics that will be effective in shortening the Social Media links. It is a free tool in the circle of best content promotion tools.
If you are interested to include more text in Social Media posts you can do it very quickly with this content promotion services tool.
You can also track an individual post's link just to analyze your audience, site traffic, and promotion performance.
Let's get started with this tool. Open the homepage of the Bitly tool and click on "Sign Up For Free".
When you shorten the link for promotion, you can start tracking for better data by clicking on "Create Bitlink".
After this, copy the URL of your new blog post and paste it on the given area "Paste Long URL".
After pasting the URL of your new blog post, this tool will get the whole data of the post and generate a comprehensive title for the post.
Also, you can type a few tags, in case when Billy doesn't add tags automatically which will help you to short the links.
After doing this, click on the "Save" button. Now, your content is ready that can be shared on Social Media.
After a few hours, you can check for some great analytic data.
Here you can notice referral traffic data, location-based engagements of the people and many more. It means this tool shows you where from the clicks are coming and why. You can see from which area the people are engaging with the content. You can also see the first time and place where people engaged with your content.
Only 5 to 10 seconds are required to build another bitlink to share the content on Facebook, Twitter, LinkedIn, and Google+.
It is great and interesting to see these analytics.
If you are interested to track the links of your content, you must use this tool because it is free for all users that is why I listed it in the group of best content promotion tools.
To use this free tool click here.

4. Buffer: A Smarter Way to Schedule and Share on Social Media
For availing content promotion Services on Social Media Buffer is free to use and the best choice among all the best content promotion tools. You can schedule your content for promotion in advance.
Buffer is used directly to share content on any Social Media platform. You don't have a need to go to each social site. Just using the single platform you can share your content on all Social Media sites.
You can even see the calendar of upcoming content with the help of this tool. It also shows you the time when most engagements are made with the content.
After making an account for Buffer within no time you can connect and authorize your accounts on Social Media.
Buffer supports all Social Media sites such as Facebook, Twitter, LinkedIn, Google+, Pinterest, and Instagram.
When you want to schedule your content, go to the "Content" tab presented under the Queue tab.
In the given box, type your new blog post's URL the content will be automatically generated for promotion.
Click on "Add to Queue" and then this post will be added to your schedule list. You can also change the schedule by going to "Settings" and selecting the date and time to add the post.
"Buffer" will also share the best times of user engagement with content which is good for you to share the posts on Social Media at a valuable time.
If you are interested to use this effective tool for free click here.
5. Zapier: Connect Your Apps and Automate Workflows
Zapier is one of the best content promotion tools that offer top free content promotion services.
It is free to use and it provides an easier way of automation for those who are busy with their important work. It automatically moves information between the web apps so that you can focus on other important tasks.
It can import data directly to your CRM automatically which saves your time. You can post content on Facebook automatically using this tool which is why it is more popular than other tools.
CRM data can be automated to send emails automatically to MailChimp. Most famous and high-ranked websites are using this tool.
Unlimited options are available in Zapier that can be used.  For example, it can be used for content curation, posting content on Social Media, and Buffer Postings. It means that this tool is being used for many social strategies.
Here is a famous zap:
It takes newly curated content from specific Feedly categories and imports those posts to your buffer queue.
The content curation is automated now you don't need to spend much time reading and sharing the relevant content.
It is more user-friendly than other content automation tools which makes it more popular.
Click on "Use This Zap", in the best free content promotion tool and it starts to use a pre-set automation template.
You can see in the picture that Feedly is the "Trigger" and Buffer is an "Action." It means whenever Feedly gets curated content, it will automatically trigger a buffer post.
Zapier supports almost all marketing SaaS tools which shows its diversity and integration level with other tools.
You can choose any of the applications to generate workflow ideas for content promotion automation.
For example, if you choose WordPress, you can set up automation for your Social Media promotion within 2 minutes.
You can easily use this Zap to automate the promotion of your content which can get traffic to your content on Social Media.
Mostly it is used to automate the new content of a blog post. In a case when you are going to promote your content with other marketers this Zap works for you.
With this tool, you will meet with many integrated options to promote your content with your favorite Slack.
I personally suggest this tool to you as I found it very effective on the list of best content promotion tools. To try this tool, click here.
6. Sprout Social: Powerful Social Media Software
In the market for best content promotion tools, it has a unique identity. It is usually used for content promotion and Social Media content management.
You'll find it one-stop platform when you use this tool for content promotion on Social Media.
It offers all such as content scheduling, publishing, promotion analytics, and direct social engagement with content. Its CRM tool works with a conjunction of Social Media management tool which makes Social Media management very easy.
The social audience can be targeted directly with this outstanding tool. Simply, this tool is called an all-rounder for Social Media content management.
The identity of this tool is strong analytics and data reporting. You can even make reports for content promotion with this tool.
Custom reports can be crafted with the help of Reporting Suite which is shown in the above image. The reporting suite can be used from Twitter to Instagram, Facebook to LinkedIn.
If you need to track specific keywords, create "Listening"
In a case when you want to keep track of your best tweets, you can see the reports.
You can also see the trends reports in Twitter Trends.
Sprout Social is also used to schedule your posts, which is one of the custom-reporting options.
There is huge photo stock available in the Asset Library of this tool which you can use for your content promotion.
As I said earlier, the popularity of this tool is to target the real audience.
Social posts can also be targeted for a real audience such as you can target Facebook audience.
You can post your content directly to specific groups on Facebook and LinkedIn rather than sending a burst of posts to all audiences.
With this feature, you can send promotional content to the right audience. This is how you can target your audience on Social Media. By doing this you can grab maximum audience engagement.
A free trial of this Content Promotion Services tool is also available for those who want to explore all the features of Sprout Social. However here are the content promotion plans, premium, Corporate, and Enterprise. Opt for the best one which suits you.
Keeping in mind your content size and budget you can select any one of the given plans. It costs high but it is the reality that it reduces the number of tools you may purchase for content promotion.
After choosing a plan right for you, start linking your social accounts.
If you are managing social media accounts for other clients, you can add multiple accounts.
Now, go back to your tool's dashboard where you can manage content promotion activities such as scheduling content, replying to messages from any Social Media platform or you can generate the latest ideas for content promotion.
Go to the report section, here you can new, custom reports using the template available into the tool.
If you are really going to use the best content promotion tools on Social Media, Sprout Social is a high-ranked choice, to get started, click here. to use and find the content promotion plans

7. IFTTT: A World that Works for You
Mostly, this tool is free and used to promote your content promotion strategies on social platforms with real-time analytics. However, there are also some content promotion plans available for the professional use of this website promotion tools
It works like Zapier in the world of social content promotion. It is one of the best content promotion tools which is used to automate promotional content.
With the use of any tool for content promotion, you can set its Triggers and Actions because IFTTT supports almost all the tools used for content automation which shows its strong integration with other applications.
When you go to promote your latest blog post on Social Media, it will take less time to automate your latest blog post.
To use this tool, first of all, create a free account with the help of a Facebook account, Gmail account, or any other email account.
Now, move to the search pane given on the dashboard of this tool where you can search out new integrations and automation to try.
After searching, you can connect with all Social Media sites and even you can connect with Alexa or Spotify.
For content promotion, you can see the strong integration of IFTTT.
If you need more specific integrations you can sort out the results by any of the following social platforms.
Twitter
Facebook
Instagram
Facebook Pages
LinkedIn
Twitch
Ello
Whaler
Sina Weibo
Reddit
Pinterest
Instawell
Here, I am discussing the integration of this tool with WordPress.
I mostly used it for content promotion as it is a better tool to integrate with WordPress than other best content promotion tools.
Choose this from all other free website promotion tools If you do not want to waste your time on Social Media, IFTTT is the best choice for you.
You can save hours every week working with this tool because it provides strong integrations with all applications.
To try this tool to automate your content promotions, click here.
8. Later: 1 Marketing Platform for Instagram
If you are going to promote your content on Instagram, surely, you need this free website promotion tool to work with.
You can schedule and plan for your content to post on Instagram. This website promotion tool has a complete and direct integration with Instagram which helps you to publish your content in easy ways.
As Instagram is the best platform to share visual contents which works for your brand to rank high.
It makes you able to gather traffic and engagements for your content.
First of all, create an account on Later and then you can schedule out your blog posts according to your choice.
There is a calendar feature that keeps your content organized and shows the posts which are going live on particular dates.
Here is an option with this tool that creates Media Library for your content before going into the schedule list.
You can upload millions of images to your Media Library just with the connection of Google Drive or Dropbox. You can use these images in your content or you can save them for future use.
The Analytics feature of this tool is also great to use, it is also one of the free content promotion sites.
For content promotion on Instagram, there is not any best option but "Later". If you want to use this free tool, just make a click here.
9. Meet Edgar: The Social Media Scheduling Tool
If you need the best performance from the best free content promotion tools by sharing constantly your content on Social Media, you have to believe in Meet Edgar.
It is one of my favorite Social Media tools whenever I used to post my content constantly on social media.
For example, you found a good performance from your shared posts on Social Media and now you want to share it again and again for more good results. And you don't want to spend many hours reposting your same content. In this case, you need a perfect solution.
Here is a one-pack solution Meet Edgar, it will help you in this regard.
It continuously fills up your publishing queue so that you can save your time by copy-pasting the same content again and again.
Create your account on Meet Edgar and connect with your social profile. No credit card is required for creating an account on Meet Edgar.
You can be connected with Facebook, Twitter, and LinkedIn at once.
There is not any easier tool than Meet Edgar to post on social platforms. Just import your new content in the calendar and it will automatically start publishing the post on Social Media.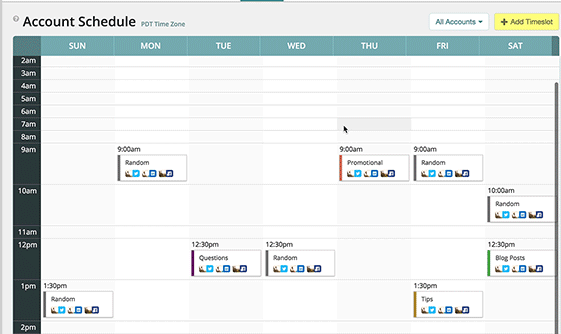 It automatically notices the best-performing posts and starts sharing these posts again at the best times. So it reduces your actions and time to come back and publish them again.
It means your best-performing content will be reshared with many variations.
It is a true fact that when best-performing posts will be reshared many times, the blog traffic will increase magically.
I always suggest that people use this tool to repost their best-performing posts on Social Media.
If you are looking for this tool don't go anywhere, just click here.

10. HootSuite: The Best Way to Manage Social Media
It is a professional tool to manage the content for automation. Using this tool you can schedule your posts and its analytics will show you the results.
It has a trial period of 30 days which is enough to understand its all features. It can watch out for up to 10 profiles at once. You can make bulk scheduling with this tool. It provides real-time analytics and scheduling posts.
You can generate new ideas with the help of this tool.
It makes it easier to reply to the bulk messages of the audience just with a single click. After the click, it automatically sends the replies to the audience. It is popular for tracking social posts.
It keeps the record of best-performing posts with the peak time of engagements with the audience. You can check out the analytics at any time.
If you want a professional automation tool, don't miss this one. To get the 30-day trial of HootSuite click here.
Final Words:
We have discussed the 10 Best Free Content Promotion Tools That Provide Free and Paid Content Promotion Services to skyrocket your blog. The paid content promotion is for those who can afford to bill but the fresher bloggers must stick with the free content promotion sites.
There are many bloggers and website owners who are spending a huge amount of money to grab a real audience from Social Media. I want to suggest to them these 10 best content promotion tools to promote their posts which lead to getting more traffic to their blogs.
Many of the given tools are free to use so there is not any reason, not to use these tools for content promotion.
If you are using any other automation tool for your content promotion, share it with us via the comment section.