Schedule Your PC Auto Shut Down at Night

If you ever forget to Schedule Your PC Auto Shut Down at Night during the time of sleep, you need an automatic Shutdown method through which your PC can be shut down.
Windows provides us this facility to power down the computer system at night.
Actually, it is a very useful method for those who work at night and usually forget to shut down the system. This only works when you are not using your PC at night. Here, in this article, we will elaborate how to Schedule Your PC Auto Shut Down at Night when you are not using it.
Since the early days of the Windows, it has two useful options to power down the PC which are Sleep and Hibernation. Both options work in a useful way because both are used to save power and system to be run.
If you experienced some troubles with these options, you really feel pleased to know that both are working accurately now in these days.
Just you have to schedule your task through an app given in Windows you can prevent an unusual shutdown of your PC.
So, let's start the process to schedule your PC auto shut down at night
Click on the Start button and type Task Scheduler
Now, click on Task Scheduler and a window will open which shows the task you want to schedule
In the Task Scheduler window, select "Actions" tab and then click on "Create Task…"
Now, a window will appear in front of you and you have tap on "General" tab and name your new task whatever you want
Here, we are naming it "z_" so that it can be quickly sorted out
Checkmark the options "Run whether user is logged on or not" and "Run with highest privileges"
On the "configure for" option select the version of your Window
Now, got to the "Triggers" tab and click on "New" to build a new trigger
Set the "Begin the task" option as "On a schedule" here you can set your own schedule as you like
We are scheduling here every night at midnight
When you have done all, click on "OK"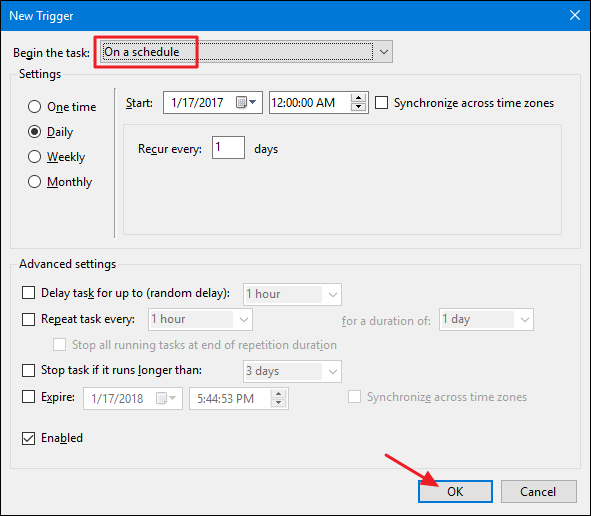 Now, go back to the "Create Task" window
Select "Actions" tab and click on "New" to create a new action
A window of "New Action" will be open in front of you
In the "Action" option go to drop down menu and select "Set a program"
In the "Program/script" box type "shutdown"
If you want to avail "Adding arguments" type "/S". This command will show you an option whether to close the running apps or not when you click on the Shutdown button.
If you want to forcedly stop the running apps, you should type "/S/F" into the "Parameters" box
At the end click on "OK"
Now, go back to the "Create Task" window
Select the "Conditions" tab
Checkmark the box of "Start the task only if the computer is idle for"
Set the timings as per your requirement
Here, we are setting the time to kick the task if the computer is idle for 30 minutes when the shutdown time arrives
We are also setting a time to wait for one hour for that idle time to happen
Checkmark the option "Stop if the computer ceases to be idle" to stop the task if you start to use your PC again
Also, checkmark the option "Restart if the idle state resumes". It will start to count the time again when you stop using your PC
It is the time to go to the "Settings" Here, you have to set up your task again if it fails in often times
Checkmark the "If the task fails, restart every" option and set your preferences. Such as we set up the task restart after thirty minutes and we letting it try to restart for three times
Click on "OK" to save the changes you made
Note that the "Task Scheduler" may ask you to put the user account and password to finish out your task and then you can exit "Task Scheduler". Now, your PC will automatically shut down at night when you suddenly sleep.
Hopefully, you are now well aware of schedule your PC auto shut down at night. You can share your precious experience after scheduling auto PC shutdown method explained above with us through the comments section.