How to Get iPhone 7 Plus Portrait Mode On iPhone 5,6,7 Series
Want iPhone 7 Plus exclusive feature of Portrait Mode On iPhone 5,6,7 or older unsupported devices? Here's how you can!
If you have iPhone 7 plus then it's OK to have a Portrait mode feature. What if someone is not having iPhone 7 rather having iPhone 5 series or iPhone 6 series! And want to have Portrait mode feature on their devices but how?
Here is the solution for getting Portrait Mode On iPhone 5,6,7.
If you are iphone users then there are a lot of chances that you may have the iPhone older series like iPhone 5s, or 6 or iPhone 6s or iPhone7. Here the fanmanshow has an interesting news for you to do not lose heart about buying a cool and shiny iPhone 7 Plus to make some Bokeh styles photos that the 7 plus performs with its latest telephoto lens.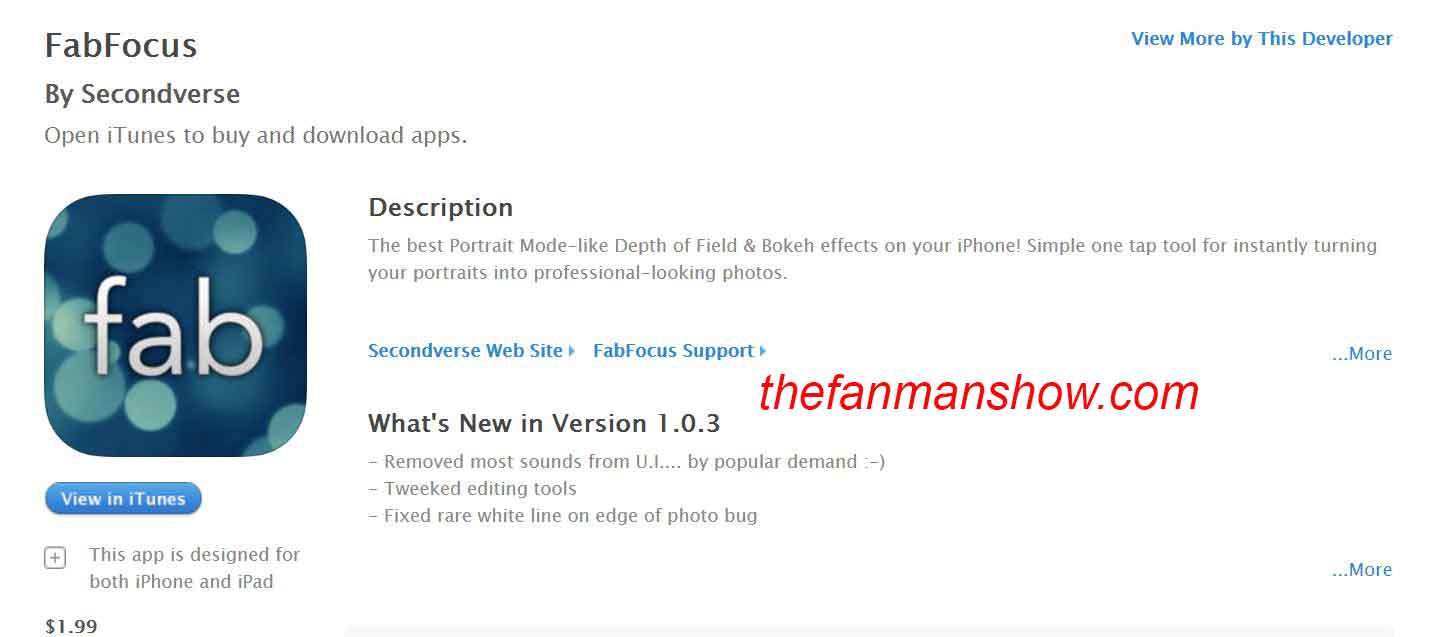 It's true that the iPhone 7 Plus is updated with iOS version 10.1.2 and with a dual camera to capture in-depth bokehs styles effects in photoshoots, but it is also mentionable that this is the beta version of its portrait mode and not all the users have given satisfactory comments and reviews.
Try These:
How To Remove Virus From Android Phone Or Tablet?
How To Install MacOS Sierra 10.12 Final In VirtualBox On Windows 10
How To Restore Your IPhone, IPad, | How To Reset Forgotten Passcode On IOS Devices?
Because there are multiple options available in the market to produce the better and effective bokeh styles. No doubts the new iPhone has taken an initiative to meet up the market demand and it will prove it because Apple is a committed organization in the consumer market.
The new and the latest app FabFocus is the best solution to take the portrait mode effects to make your images more lovely, enhanced, BluRay with bokeh effect.
Apple has released sample images and they look pretty impressive. But it is too interesting about mentioning an app to downlaod FabFocus  that can be work with all the iPhone models and series of iPhone 5S or later.
So many users are still having the older one so they can download and use this application to have portrait mode effect on their Apple iPhone.
The FabFocus app has the advanced artificial intelligence facial recognition that detects objects in the foreground and embeds a blur effect as a background. The app gives a more professional look to the photographs.
FabFocus for iOS costs $1.99, and it can be downloaded from the App Store.
I hope so that you will get Portrait Mode On iPhone 5,6,7 so easily now, share your experience with us through the comment section below.