Faster Charging Samsung Galaxy S7 and S7 Edge with Qi Wireless Charging
Learn with The Fanman Show about how to charge your smartphones especially Samsung Galaxy S7 and S7 Edge Nokia Lumia series with Qi Wireless Charging Technology!
There are numerous world famous mobile phone companies which are focusing on the wireless charger facilities with their phones but the most of the users are still unaware of how to utilize wireless charger to charge their phone faster with these wireless charging devices.
The article will cover up how to charge wirelessly with Qi Wireless Charging
Nokia Lumia 735 (with wireless technology using EC Technology Ultra-Slim Wireless Charger)?
Samsung Galaxy S7 and S7 Edge, (using Wireless Charging Technology).
And all the other mobile phones which are supported by the Qi Wireless charging or similar charger
Qi Wireless Charging:
Basically, it is a standard which is supported by many Smart Phones of the world and it uses Induction Transfer to charge a compatible mobile phone wirelessly. You have to put your mobile phone or tablet on the top of the wireless pad. No cables are required to connect the mobile phone. It is the major advantage of Qi Wireless Charging that it reduces the complexity of the cables.
This technology is getting popularity and available in every hotel and railway stations for the ease of passengers.
Price of Qi Wireless Charger:
You don't have to worry about its prices. It is inexpensive technology nowadays. You can buy Qi Wireless charger for home usage. You can buy EC Technology Ultra-Slim Wireless Charger in £ 7.99 (Rs.1050) only (from Amazon)
If you have a Smart Phone which is compatible with Qi Wireless Charging, you can buy any Wireless Charger for your mobile phone.
Power of Qi Wireless charging:
            If you are thinking about the low power of Qi Wireless Charger, you are wrong. There are two categories of the Qi Wireless Chargers.
Low Power Qi Wireless Chargers: It can deliver 5 watts of power which fairly travels up to 4cm of distance above the pad.
Medium Power Qi Wireless Chargers: It delivers 120 watts which travel up to 2 cm above the top pad of the wireless charger.
For example, when you hold 2 cm above your Nokia Lumia 735, it will show you charging of the battery.
Time Required by Qi Wireless Charger to Charge a Battery:
No doubt, the wireless charger is slower as compare to the traditional charging technologies but it is useful for many reasons. A Wireless Charger delivers 1-ampere current that is plentiful and standard. Nexus 7 is much faster than typical wireless chargers by delivery of 2-ampere current.
Fast Wireless Charging on Samsung S7 and S7 Edge:
We know that wireless charging is slow but Samsung S7 and S7 Edge are the dominant cases which can be charged with the faster rate. They are 1.4 times fast in charging wirelessly as compared to other devices.
There is also a plus point for the users of Samsung Mobiles that Samsung Galaxy Note 5 and Galaxy S6 Edge Plus also have the same rate (1.4 times faster) of charging with Qi Wireless Chargers.
Samsung offers its own wireless chargers which are fast than the other wireless chargers. You can use your Samsung Mobile while it is having charge, it would not disturb you in any condition. The design of these chargers is very simple and handy to use. These chargers are available at Mobile Fun which costs 60 pounds for each Samsung Mobile Wireless Charger.
Risks of Qi Wireless Charging:
          We have discussed earlier that the Wireless charging uses Induction Technology but still there is no danger to using it because it emits non-ionizing radiations which are safe for the humans. Although it gets warm at the time of using the temperature doesn't exceed 40ºC.
Use of Qi Wireless Chargers: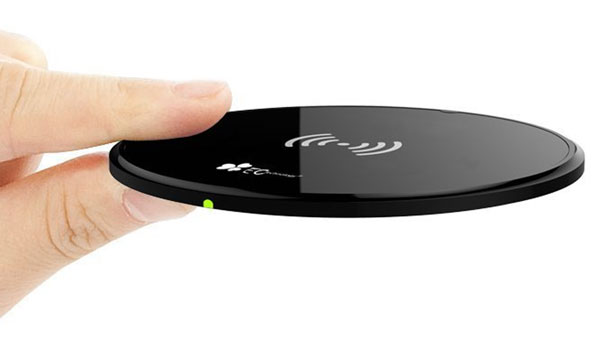 Read the following steps carefully about the usage of Qi Wireless chargers.
Connect the cable of EC Technology Ultra-Slim Charger to Power Bank or to the main supply. You can connect the cable by micro USB cable with your PC also.
When you connect the cable the LED, the green light of the wireless charger will be on
Make sure that your mobile phone is supported Qi Wireless Charging
For this, you have to check out the specifications of the manufacturer of your mobile phone.
If your mobile phone doesn't support Qi Wireless Charging you can add this feature. For example, Samsung is providing Charging Kit to support Qi Wireless charging which costs £ 60 (Rs.7900) only.
we have discussed a lot on Qi Wireless Charging, share your experience with us to update this article via the comment section.