Become an Affiliate Marketer in 4 Simple Steps
You can start affiliate marketing in just 4 simple steps.
Step 1: start reviewing products in your chosen niche. You can review products on YouTube, Dailymotion, blogs, social media live streams on Instagram, Twitter, and Facebook.
Step 2: Collect your visitors/non-visitors emails to connect with them at any time for the promotion of your products and don't expect them to even see your product sent in emails.
Step 3: Arrange and start a joint venture webinars to make a lot of sales in a short span of time. Starting a webinar is also a quick way to collect active buyer's emails.
Step 4: Once your affiliate marketing business starts making money, it's time to set up pay per click advertising for ultimate growth in the affiliate business.
Now let's breakdown each step to better understand how to become an affiliate marketer?
Step 1: Review products in your niche
It's easier to become an affiliate marketer than becoming a merchant because you only have to work on merchants' ideas and start making money.
You already use plenty of products and pay cash for them but you don't earn. As an affiliate, you just have to start speaking publically about those products.
You need to honestly review the products and believe me:
Any product works
Really.
Take a look at this guy Brian Lam, who runs WireCutter blog and reviews on Gadgets, gear, and electronics
They usually make money from Amazon Associate program and Skimlinks
If you love WordPress Blogging then:
Here's another successful affiliate marketer "Harsh Aggarwal" who usually makes money through his blog "Shoutmeloud" by placing affiliate links related to his niche WordPress, Blogging, various themes, and Web-Hosting.
When he started his first affiliate earning was $47 and now he is making approximately USD $40K+ per month and you can earn too.
People just come here for reviews, tutorials and coupon codes click on the affiliate links and Harsh gets a cookie advantage whenever a sale happens.
Whatever you are reviewing write the story honestly by telling all the odds and even so that visitors don't think about that you are just selling the goods to them rather they must have the positive as well as negative aspects of the product clearly.
If you don't go genuinely helpful, people will sense immediately that you are just selling the product either way.
Here's Pat Flynn suggestion to become a successful affiliate marketer
"Affiliate marketing is by far the most profitable, because you can actually relate to the product, instead of just promoting something that might make you a lot of cash."
But it's hard to understand each and every aspect of a product because you are not an expert at that product then:
How can you credibly promote it?
Selling a consumer product is a difficult task to achieve but if you know the person is credible and known for his work then the situation is more easy.
When you write reviews on your blog, you can use an affiliate link to link to the products that you promote.
But how will you promote products on your blog?
When you'll sign up with a merchant or an affiliate network, you have to generate an affiliate link then link it to their products in your reviews or tutorials.
Here's an example of an affiliate link generated from the BeRush affiliate program by the SEMRush.
Affiliate links usually start by the long "/ref…" tail, at the end of the regular link
In amazon sign in to amazon associate program
Go to the product page
In Get Links click on Text
Select the short link radio button
And finally, click on Get Link button as shown below
However, if you use these affiliate links only in reviews then genuinely speaking you need a lot of traffic to generate a huge amount of money.
But, if you have a direct audience then you can convey them to buy directly using these affiliate links.
That's the point where step 2 comes in.
Step 2: Build an Email List from Scratch
Email marketing is one of the most popular channels now a days so don't skip it.
If you are new to email marketing then don't worry I'll show you 3 super easy ways to collect email addresses from your website/blog.
Number 1: Activate Hello Bar
With Hello Bar, it's easy to put a call to action on top of your website. Every time, when a visitor comes to your website, the Hello Bar will welcome him.
To engage your visitors, you must have to offer them something amazing, it can be an eBook, best product review or a special video course.
So when your visitors click on the Hello Bar, you can redirect them to enter their email and then have access to that specific material.
If you are a starter then it's totally free to build an email list for affiliate marketing on the basic package. You can build an email list of 5000 visitors and if you are happy with Hello Bar services then you can go with their other packages. It's all up to you.
Number 2: Exit Gate
When a user is about to leave why don't you send an automatic pop up that will lay over the screen asking them to follow you on Facebook, Twitter or Instagram, etc.
You can create an Exit Gate using Hello Bar.
It is triggered when a visitor moves the mouse to the top area of the browser.
Here's how it looks like:
Most of the affiliate marketers use it to get more Twitter follows on their websites.
But you can also redirect your visitors to the lead magnet and get their email.
Number 3: Sidebar Widget
Many affiliate marketers completely create a mess by showing sidebar widgets
Don't do this!
Don't offer your visitors 20 things to do.
Just give them one call to action in a sidebar widget and offer them something amazing in exchange for their email.
Here's how Neil Patel offers a free course and gets his visitors email address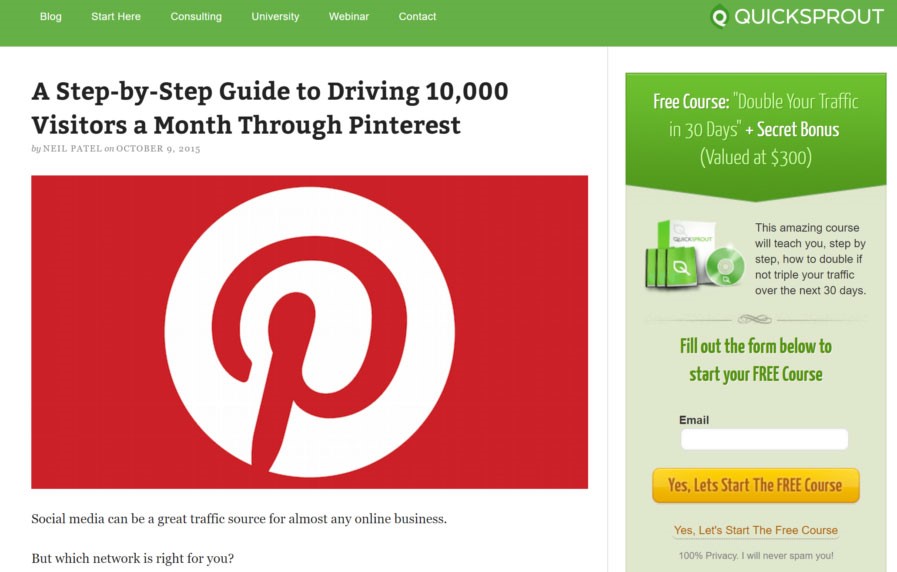 Since your main focus is to just get your visitor's email address thus offer them the most appealing content and get their emails simply.
A list of 500 visitors is enough to start selling but keep them engaged by sending regular updates about products and services once in a week.
Don't do it excessively.
However, send them updates whenever you have a new review up.
Here's the sample below:
The point is, every now and then, send them specific updates and offer them a call to action button in buying the reviewed product.
You can also update your audience on your change of mind and recommend that they too switch to that product with reasoning.
Actually, you can do a lot more. Once you have built up an audience on your emails list, you can do this.
Step 3: Educate your audience with live webinars
Suppose there is launched a new product and people don't know about that.
Or there is an existing product with a lot more benefits and you want people to buy that old product with the new prospectus.
Then what makes people buy that specific product?
Reading a review on a blog?
Or seeing a live presentation about that product?
You have to go in the most effective way that will generate a lot more sales.
Of course, it's a live presentation.
That's why many successful affiliates choose live webinars for their promotional activities.
You educate your audience with live Webinars and convey people to buy that product by telling its various benefits.
Simply, Webinars are awesome!
You have to create a simple landing page where your visitors can sign up for your webinars.
If you don't know how to create landing pages, you can use a tool like LeadPages, to create simple and attractive signup pages for your webinars.
Look at John Chow's live Webinar page:
Here's how Neil Patel has made his webinar lead page.
Next, promote your webinar on the most popular social media platforms for at least
10 days before to get people to sign up.
Then, use Google Hangout a completely free tool to streamline your webinar live to your audience.
Engaging people in a webinar is awesome. Just gather your audience by the above signup method and show them the product you're promoting live and answer their question about the product.
You can:
Count all the product's features
Discuss various use cases of the product
Talk about its benefits and drawbacks
Tell the audience your personal experience with the product
Help them to get the most out of it
and much more.
Tip: Learning how to host a webinar with a Google Hangout takes less than 10 minutes. Proof? This video explains it well.
Actually, the live webinar will make your audience enthusiastic after seeing all the crazy things about the product and everyone will now be eager to get that product as soon as possible.
And the best thing you can do is pointing an affiliate link and sharing it at the end of the webinar, will enable you to make a soft sell.
It won't feel forced and your consumers have time to make up their mind on whether they'll actually purchase or not. If things go right, you'll have your affiliate commission.
Pro tip: Arrange a special deal for your consumer with a merchant and ask him for a discount. If you promise him to get a couple of hundred sales then the merchant will happily give you a discount and a special bundle to further i
ncentivize people to buy.
Step 4: Grow your business with PPC advertising
Once your affiliate marketing business starts to picks up steam, you must start paid advertising on Facebook ads and Google ads.
But only opt these promotional strategies once you have a way of making back you money
Conversions matter at all:
Start PPC advertising to:
Get people to sign up for your webinar
Grow your email list
Make more sales
Start PPC advertising from picking up a keyword.
For example, if you are going to teach your audience about affiliate marketing then "learn affiliate marketing" will be a great keyword for your PPC ads in Google. You can also use your competitor's keywords even for your PPC advertisements. For this use the SEMRush tool to select the best keywords for your ads.
You can also target people who are already searching for your product review. The task can be achieved by improving your SEO
However, the purchasing trend from an affiliate link, after reading a review is naturally low, so you have to go for paid advertisements. We all know that you only get a few dollars or sometimes some cents per sale. So keeping a balance between your income and pay for reading is a bit tricky.
So, keep it simple and don't expect people to buy from those ads.
Try to get their email and getting people to sign up for a webinar with ads is the best way to go
Do as above stated and you will be in a win-win position because:
You have their emails in your email list and you can be in touch anytime
You have a targeted audience that can attend your webinar and buy the product.
You can put them on an autoresponder email sequence that encourages them to buy
For example, John Lee Dumas, from Entrepreneur On Fire, often runs webinars and puts his audience right on his homepage.
And when you sign up for his webinars he starts sending you a series of automated emails related to his webinar. He offers free courses and tools about how to do webinars to generate sales and in the end, he invites you a more extensive course on webinars.
Once, you end up buying on a full-length course he calculates how much sale is incurred and how much he can spend on ads for more sign up for his webinar or for a free course that ends up buying on full-length course as a product.
So, I recommend using this strategy to get more signups that will generate more sales.
Once, you start earning from various sources, start paid advertising and grow your business because getting targeted traffic through paid advertising is more easy and the proper sales mechanism opts by the top affiliate marketers.
Conclusion
Hopefully, you have learned how to get started with affiliate marketing
You can become a merchant or an affiliate.
But, choosing an affiliate marketer as a career does not involve a huge cost to you.
For this, we have discussed 4 easy steps to become an affiliate marketer.
Choose a niche and start reviewing products
Build an email list
Conduct live webinars to educate your audience and generate sales
Start PPC advertising on Facebook and Google ads
Are you ready to become an affiliate marketer or not?
Let me know in the comments.