The Best WordPress Contact Form Plugins for 2018
Do you want to add a contact form to your website and searching for the best WordPress Contact Form plugins?
in our last articles, we have discussed a lot on Best WordPress Membership Plugins For 2018 and The Best WordPress Backup Plugins For 2018.
But, today, we are going to discuss "The Best WordPress Contact Form Plugins for 2018"
Here, we go for coolest WordPress plugins for contact forms.!
There are more than 1700 WordPress contact form plugins available from which I have listed the best WordPress contact form plugins here in this article so that you can choose the most suitable contact form plugin for your own site.
With the help of comparing mechanism, you can get more help to know about their pros and cons.
So, let's start with all best contact form plugins:
Contact Form 7: Manage and customize multiple Contact Forms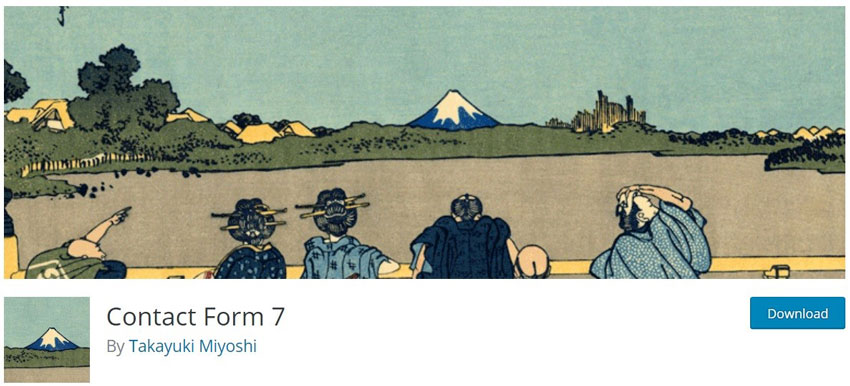 This is a most popular and free available WordPress contact form plugin which is used to manage multiple contact forms.
This is one of the oldest WordPress plugin which has more than 5 million active installations. This means that users are more comfortable with it.
For this reason, I mentioned it in the list of best WordPress contact form plugins.
You can also customize mail contents with simple markup.
Basically, it supports Ajax-powered submitting, CAPTCHA, Akismet spam filtering and many more.
Pros:
You can easily install it on multiple sites without any cost
It is open-source software. This is a main cause of its popularity among the WordPress users
It also supports many free available third-party add-ons
It is very helpful to create a basic form
It supports 43 languages which means you can translate this plugin into your language
Cons:
Beginners cannot easily understand its interface
Some features are complex to understand for which the user may need a proper help or support
It just has limited features. It means that this plugin does not have advanced features and options
It does not have its own add-ons directory that is why users go to use third-party add-ons on Contact Form 7 WordPress plugin
This plugin is not in favor of professionals
Ninja Forms: Easy and Powerful Form Builder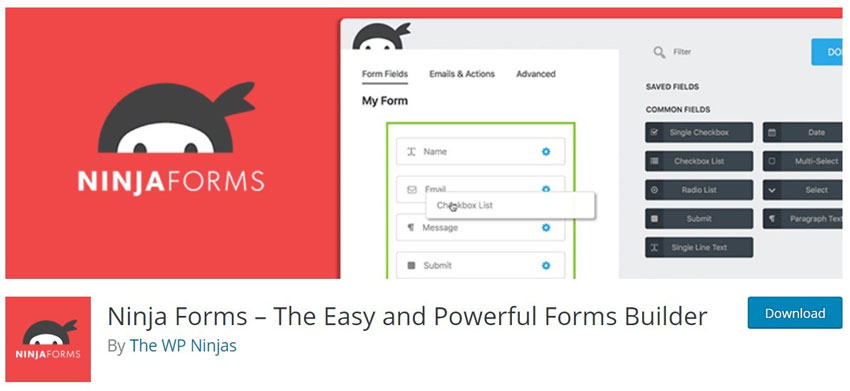 Free available Ninja Form is one of the best WordPress contact form plugins which is easy and very powerful tool to create a contact form.
With simple drag-and-drop feature, you can create your contact form within a minute or two.
You can easily use its built-in hooks, filters, and even custom field templates for an attractive contact form.
The developers can use it as framework to build contact forms.
Let's have a look on its pros and cons:
Pros:
This plugin has understandable and intuitive interface which is great for beginners
You can create countless number of forms, fields, emails, actions and submissions using it
Dedicated fields are available for emails, dates, and many others
You can easily customize and format your contents
Mange, edit and export/import form facilities are easy to use
You can redirect the user elsewhere when he completes a form on your website
In this plugin, the modifications for the fields is available and you can also save the modified fields for future use
Community support, documentation guides and email support options are also available for the ease of users
Cons:
Although, plugin is free but its add-ons are much costly
To use advanced features you need to buy its add-ons which is very expensive
Up-gradation of this plugin is not free
WPForms: Drag & Drop WordPress Form Builder 
WPForms is another wonderful plugin which I mentioned in the list of best WordPress contact form plugins for 2018.
It has many advanced built-in features that can help you to build contact forms for your WordPress sites.
For example, it has feature for 100% response to mobile users.
You can response quickly using Instant Notification feature of this tool.
WPForms WordPress plugin is a best free WordPress form plugin and its pro version is also available for professionals.
Now look at its pros and cons to evaluate this amazing plugin:
Pros:
Its drag & drop feature to build a form makes it more easy to use
It has more convenient and easy user-friendly interface for the beginners
You can use it on many WordPress sites
If you want to use it professionally, you can get its premium version which also enhance its functions
Advanced and up to date features are also available in its pro version for example, you can build multi-page forms, email subscription forms, payment forms, order forms, use smart conditional logic, and many more
You can associate an email form to the popular email marketing service easily
Many forms can be embedded with short-codes
It blocks the spam content
Help and support is also available for the ease of beginners
Cons:
Free version has limited features to use and if you need advanced features you have to pay for it
Gravity Forms: Easiest Tool to Build Advanced Forms
To create advanced forms, you need to use this amazingly performing WordPress plugin.
It is a paid tool to build forms on WordPress sites.
If you are working on a high profile websites the cost should not be a matter for you.
It is loaded with many advanced and charming features which will help you to create eye-catching contact forms.
Pros:
This is a most powerful contact form plugin that has many up to date features
Its premium support features are FAQs, knowledge base, forums, and email support and many others
With the help of this plugin you can create your own survey forms, quiz form, user submitted content form, and even web directories
There are many additional add-ons are available for this plugin
Cons:
It does not have any free version for the WordPress users
It is little bit expensive plugin as compared to the other contact form plugins
With this advanced tool you have an option to build all kinds of forms.
It is a free WordPress plugin but its pro version is also available in the market of best WordPress contact form plugins.
It is highly responsive as you can build a fully functional contact form within few minutes.
Click here to get its pro version.
Pros:
It is as easy as you can add a field with single click
You can reorder it with drag and drop option
You can export your contact form into CSV file
It provides very simple and logic based anti-spam system which is highly effective
You can easily customize the confirmation messages
Redirect option is also available in this tool
Field lay out can be arranged in two, three, or mixture of columns
Its short-codes can work on any page or post
You can send form submissions to multiple emails
All the form entries are automatically saved to the WordPress database
Many affordable pricing plans are available for the users
It does not have annual payment infrastructure for its pro version. Pay once for your site and enjoy its usage
Cons:
It offers limited features with its free version
License of its pro version is allowed on a single site and if you want to use it on another site you have to buy another license
Conclusion
Among these best WordPress contact form plugins you have to choose the best plugin according to your need.
If you are a beginner with WordPress sites and do not want to pay much for the plugins, go to the free version of WPForms plugin which suites on you.
For professional web-owners there is a Gravity Form plugin that provides all advanced features with it.
For those who want to create attractive and visual contact forms, just go for Visual Form Builder which brings extraordinary features with it.
Don't forget to share this post with your friends so that they can also know about these best WordPress contact form plugins.