iPhone 7 Review: Evolution Not Revolution
Pross
Wonderful and excellent camera performance
Water proof (resistant)
Fast and plane iOS 10 and A10 Fusion
Beautiful and Awsome Display
Cons
RIP (Rest in Peace) Headphone Jack
Scratch-magnet Jet Black creation
Old cases of previous models may be don't fit
Apple always has been a dangerous giant over all the smartphone companies with its new iPhone releases ever. Their latest ever latest iPhone series has been so charming to the users around the world that everybody seems compelling to buy a latest one.
The rumors has been absolutely proven true that were "the new iphone 7 will be the refinement of the previous iPhone 6 and the biggest changes are hoping to be done in the next release probably on their 10th anniversary".
There is almost a resemblance between iphone 6s and iPhone 7 at first glance, but if you really want to know about what has changed then you must have to use it from some friend or buy a new one for you.
While iPhone 7 is aesthetically unexciting; it's what's underneath that counts.
1. Design
If you are the type of the person which always changes their iPhone because of major changes in big redesign, believe me you'll meet a big big disappointment.
1.1 Design Comparison between iPhone 7 and iPhone 6s
Let's start with the obvious looks of both the phone I mean iPhone 7 and iPhone 6s. believe me there is literally no difference but with some minor changes:
Difference:
The antenna bands seems at different places.
iPhone 7 has the bigger camera than iPhone 6s.
Commonness:
Both the models have 4.7 and 5.5 inches screen sizes.
Both have almost same button shapes and layout.
Color Playing its Role As a Major Differentiator Between iPhone 7 and 6s:
However, the color of the iPhone 7 is the major difference while talking about its design with the option to select the two new colors;
1.2 Jet Black vs Black
We all are familiar with the iPhone black color, no doubt the black color looks cool in hands but the "Jet Black" with splendid aluminum body feels more grippy, more polished and has become the most popular selling item in the national and international market. The main issue with jet black is that it is liable to scratching so Apple itself is keen in recommending a case while using it. In my point of view if you'll use it few times then you will find your fingerprints on its body or wherever you touched it. So using a case would be a better solution.
2. The Camera
The camera is the most sensational part while counting the features of iPhone 7 and behave like a differentiator between the 7 and 7 Plus.
2.1 12 Mega Pixel Sensor
Technically, the iPhone 7 is equipped with 12MP (Mega Pixel) sensor having a winder aperture, brand new image processor with optical image stabilization. What does it all means, all I am saying that the lens lets 50% more light in, which results in better colors optimization?
2.2 Four LED Flash – Warmer Photos
The camera is also equipped with four LED flashes that sprinkle much warmer effects on photos. You'll feel a heavier difference between snapshots taken by iPhone 6s and iPhone 7 plus. As photos taken in iphone7 plus will seem much shiny even in low light than the 6s.
2.3 Telephoto Lens
iPhone7 Plus has an edge over iphone 7 as it has two lens one is same like in ihpone 7 but the other one is "telephoto lens, having longer focal length to magnify the images." It means both the cameras work together to produce clear shot while zooming an image. Which seems not so possible in iPhone 7.
2.4 Better Zooming
As we talk above that iphone 7 plus has a better camera option for the users. In contrast to the other old models (zooming limit just 5x), you can produce very impressive, shiny and beautifully optimized images even while zooming between 1x to 10x digitally with one handed wheel.
2.5 Camera Difference Between the iPhone 7 and iPhone 7 Plus
It's been a plus point and totally credit goes to Apple that it has introduced such a stunning digital zooming for optical and longer range snapshots. iPhone 7 plus is the best choice to buy rather than iPhone 7 just because of an extra telephoto lens in iPhone 7 plus.
The previous models iPhone 5, 5s, iPhone 6, 6s have 5MP front, selfies camera but the iPhone 7 and 7 plus both have 7MP front selfie camera.
3. The Headphone Jack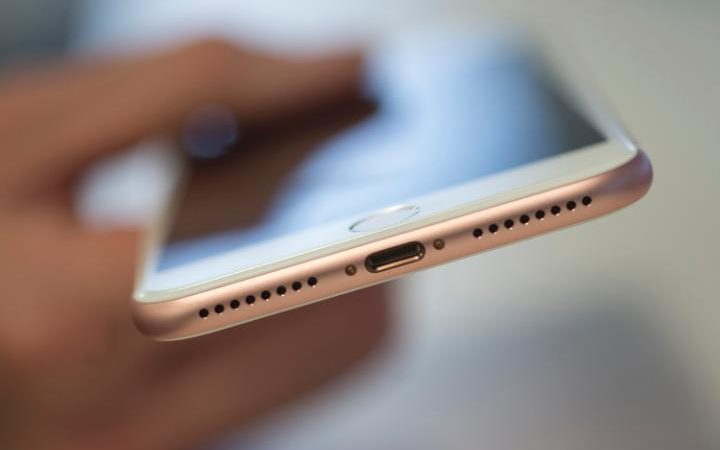 An arguable and the most controversial change in iPhone 7 is that "there is no headphone jack."
Philip W. "Phil" Schiller, the senior vice president of worldwide marketing at Apple Inc. while upon disclosing iPhone 7 features said that the headphone jack was outdated, and that removing it was about "courage".
Apple also presented a host solution, the iphone is bundled with the headphones that connect to the lightening port and facilitative adapter for those who keep the old headphone.
Instead of this, apple is soon going to release its wireless Airpod, they are intelligent, responsive, better sounds but are too expensive and cost $159.00. I think these can be out of range for many iPhone users. In my point of view someone can use Bluetooth headphones as a substitute for so expensive Airpods.
How it is annoying! That you will have to use headphone jack for listening music or charge the phone. You will not be able to do the both things at the same time. This is a blunder for the iPhone users that they will use auxiliary cable either to listen music or using a hands-free kit. Adapter price is even quiet reasonable and it costs $35. If you switch to Bluetooth or lightning headphone, there is no guarantee that they will support with your other gadgets.
So it's totally depends on your considerations, that removing the headphone jack is positive for you or negative while keeping in mind its other worthless features like bigger battery, water resistance, optical stabilization, but it's an admitted truth that Apple is all about future predictor and the prediction is clearly wireless.
At the end it is quiet acceptable that lightning provides more secure connection than 3.3mm port of analogue headphone jack. On dropping iPhone and grabbing headphones, the lightning port play a differentiator role when your phone safely swinging in the mid-air and then crashing to the ground
iPhone 7 New Home Button And Water Resistance

There are rumors that this can be the last iPhone in the history ever with a home button. Analyst are of the view that the entire front of the coming model of iPhone will be totally touchscreen and the home button will physically be vanished from the phone.
Rather than the physical clicky button, apple has introduced a pressure sensitive and solid-state button. This button does not move as the previous ones do, but quickly responds with a haptic vibration to simulate while pressed.
If someone has experienced the force touch of MacBook or Apple Watch or the iPhone 6s 3D touch, can have better understanding for how it feels! But the new button leaves a very strange sensation. Haptic feedback is additionally utilized over the iPhone: scrolling a menu or switch flips on and off from settings menu, you find a consoling vibration.
So the most important thing to remember is that the change of button means the iPhone7 is made water resistance. If it is water resistant then it is already understood that it is also a dust free model. This iPhone has IP67 certification that represents its survival in water for 30 minutes. So, it is a suitable model who are careless among us but please don't go swimming with it.