How to Start a Blog for Free and Make Money Online
Today, I am going to share "how to start a blog for free and make money?"
After going through this article, you will surely in a position to start your own blog or in a wish to start it soon.
Creating a blog on any topic and giving your personal presence that can be on your own essence, technology, mobile reviews website, health, economics, education, blogging or like TheFanmanShow.com (covering the major part of technology and make money with blogging) will be a great fun and rewarding.
What you need to do is just carefully read all the instructions I have compiled for you to start a blog.
How Do You Start A Blog?
Many of you will be thinking that how you can start a blog with zero knowledge?
Let me take my own example that how do I started my blog "The Fan Man Show". That will surely help you a lot to find the answer to the above both questions "How do you start a blog?"
A couple of years back, I do a Network Engineer job from 8:00 am to 5:00 pm (and sometimes extra hours and hours), and believe me, I have to bear many things, a huge burden, and an exhausted life. Then I came across an idea with a lot of interest, passion and dedication led me to create a blog. Later I crafted everything to make this dream come true. I quit my job and started blogging.
Like you, I was also searching for "how to start a blog for free and make money"
Finally, I went through my research and started blogging.
The start was tough for one year but it was me and my passion for blogging for which I have left my job. But I have taken it as a fun and hobby and never exhausted.
Finally, I have gained for what I have started for. Today, I earn a handsome amount of money from blogging. Here is the very first earning from my blog.
Today, I dedicate a large portion of my time to helping others realize their online objectives. I love what I do!
The thing is that:
Never underestimate what your potential blog could achieve. The blog you're reading gets over 4.5 million visitors a year!
Right Now, I dedicate my 16 hours' time to others, wandering over the internet how to start a blog and make money online.
Just make a start. As one of the greatest Islamic scholar "Rumi" says:
"As you start to walk on the way, the way appears."
So, what I am trying to say is "the most important step of all is the first step". Initially, you will not get enough traffic but you have to never give up and one day you will achieve for what you have started for
Below is the traffic flow of The Fanman Show in approximately one month.
Really, I was not sure about starting a Tech blog can generate tons of traffic.
Well, you will be stunned how it is simple to create a blog when you will go through all over the article.
I'm going to walk you through the natural train of thought that most people will have when researching "how to start a blog for free and make money"
So, creating a blog of your own choice is not far away! Keep reading
Now let's discuss some blogging ideas on how to start a successful blog?
Some Fabulous Blogging Topics to Start a Successful Blog
Many of you will be a starter and have less knowledge of what they should blog about. Believe me, it's a really a hard part to pick up the blog topic.
Whatever your reason for investigating how to set up a blog, I can tell you all you need to know. When it comes to choosing a blog topic, just pick something that you're interested in!
Starting your own blog is a hard time investment. In my point of view when you are going to choose a blog topic, then pick an idea in which you have full grip and level of interest.
Even, you don't know what to pick then pick an idea in which you are interested to learn about and won't get bored.
Following is the list of most popular blog topics to get you thinking:
Beginner's guides to anything!
Technology
Do It Yourself (DIY)
Fashion
Health
Politics
Entertainment
Jobs and vacancies
Recipes
News
Parenthood
Global warming
Life Experiences
Overcoming adversity or illness
Family
Reviews
Food
Products or service reviews
Gaming
Activism
Educational
Travel Experiences
Celebrities
Charity
Jokes and Humor
Music
Personal Stories
Myths
Relationships
Sports
History
Maybe there is something else to choose in your mind.
So, it doesn't matter what you choose, but whatever you choose must according to your mood and interest.
Here are some other most popular blog categories by the Google Allintitle Search that will also help you on "how to start a blog for free and make money?"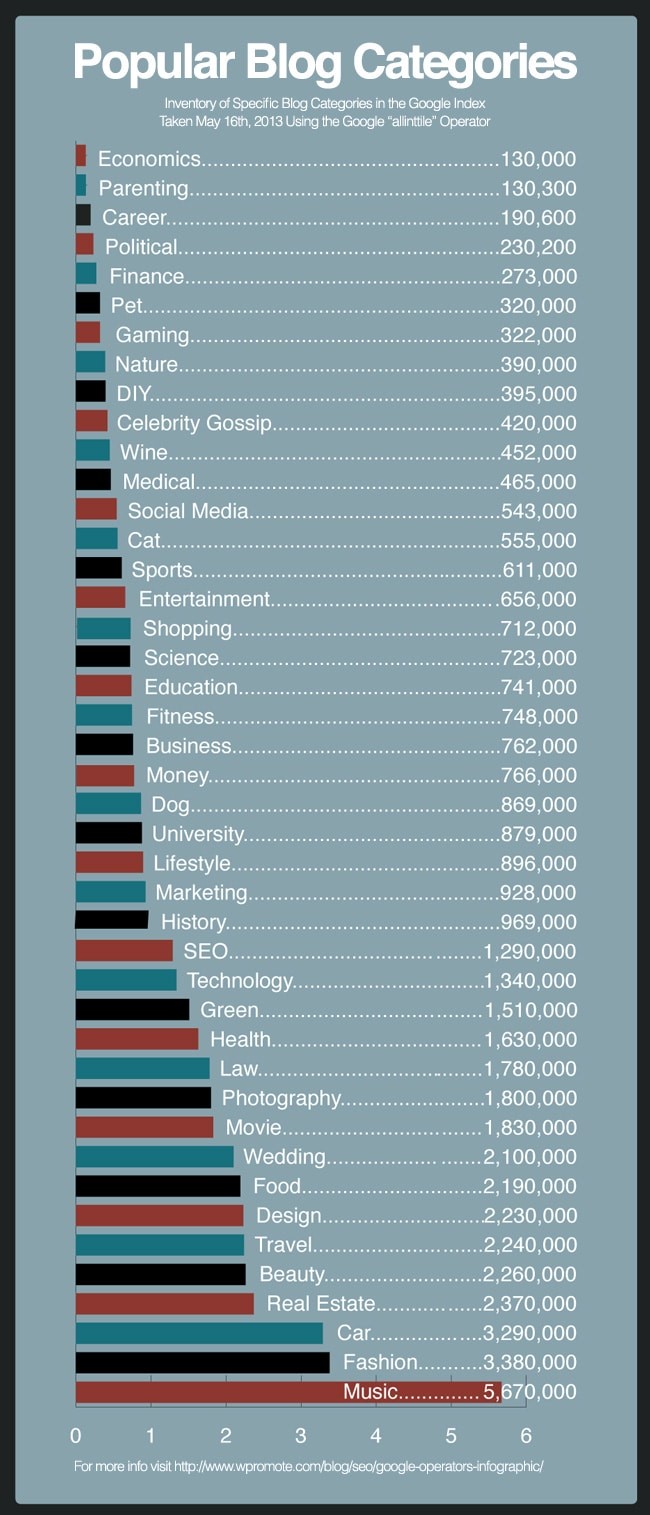 Above is a very interesting list of blog topics to choose one or multiple at the same time but remember to choose one which you can fluently run across the internet world.
The very first step in how to start a blog for free and make money? Is choosing a domain name for your blog.
Some other recommended readings:
How To Earn Money From Facebook Page Likes And Groups?
How To Make Money Online With Google With Zero Investment
Let's discuss what domain name is and how to choose a domain name for your blog?
Choose a Domain Name for Your Blog
Buying a domain name is kinda fun thing. There are two types of people, one who is asking everyone in their relationships about the blog topic while the other has a clear picture of choosing a domain name for their blog.
When you will open a browser for buying a domain name, you will go towards a .com the most commercial type of domain and will come to know that it is already taken. OOops
But don't worry and keep trying to find a suitable one because there are 486 types of domain extensions to choose from. As extension is the ending part of the domain as .com, .pk, .in or .uk etc.
So, after a smart research you'll be able to find a suitable domain name, go for it and buy it for your blog.
Some tips when choosing a domain name for your blog
Are you going to create a personal blog on your name then name it on your name but if you are going build a brand then take a different one instead of your name?
Choose a name that people can easily remember, try to select a domain with minimum characters but making some sense even it is short.
Don't choose a domain name that looks like other's blog name.
Don't make it complicated, and don't select the words which are hard to remember.
Never use the logos or slogans of others blogs, because they will come after you and shut you down.
Remain the topic-oriented while choosing the domain name, for example, if you are going to start a blog on technology then use the word tech while buying a domain.
Avoid number and hyphens. These confuse people, and it makes it hard to explain the domain to others.
Don't use the special symbols, number or hyphen because these will confuse your audience and result in your blog hard to find over the internet.
You can use the tool below to find the domain name in your head is available or not. If that is even not available you'll get some useful suggestions.
How much will a domain cost for my blog?
A domain costs around $10/year. Many hosting companies add extra charges for additional features.
Buying one domain will costs you around $12 to $15/year for a normal domain name, there can be some extra charges for getting some extra features, like privacy protection, extra bandwidth etc.
There also you'll find some premium domains available for you. In my recommendations, stay away from them, if it is your first blog.
I'll also suggest you a best place for buying Domain name in this article.
The second and the very important step how to start a blog for free and make money falls apart in buying hosting?
Hosting your Blog
Once you have purchased a domain name, the next step is a web hosting of your blog. As web hosting is a service where you will host (keep) your blog website for others to access it over the internet.
If you are working on localhost, you are getting zero traffic, unless you buy a domain name with web hosting and making it available for others on the internet. When it will be available for others, you will get traffic.
There are so many web hosting companies to select and their prices as I already said varies from $1/month to $3/month on a basic package.
I will highly recommend you to select Bluehost for web hosting and for buying a domain name also. Because Bluehost has a broader picture in the world of internet for their 24/7 365 days service availability and an awesome support. Their packages starting from $2.95/month.
In the start, you don't need to buy heavy packages with all features. When you feel your blog is getting a huge traffic then go for more features. Bluehost can manage more and more features for you that's why I always recommend Bluehost for web hosting.
I recently partnered with them and asked if I could offer you (my readers) an even better deal.
We have done a partnership with them and they agreed on offering a better deal for our readers.
We have settled down a deal of $2.95 for you to choose Bluehost for your website for hosting through our partner link. Go for it to avail the concession that will not be available anywhere else. You will also get another free domain of your own choice for your blog.
What if they deny from the above-said deal, I would still recommend Bluehost.
Click the link if you really going to buy a domain now
Which Blogging Platform to Choose?
If you have purchased a domain name and a web hosting next step is to choose a blogging platform. We are running all of our blogs on WordPress because it's user-friendly, free, and extendable. The most important WordPress is an SEO-friendly platform.
Choosing WordPress is a guarantee to generate a money making a blog for you.
The other free blogging platforms will create issues that become uncontrollable sometimes.
Why Not to Choose a Free Blogging Service?
They can simply say you to shut down your blog at any stage for any reason!
They even don't allow you for putting ads on your blog and so many other limitations you have to face there.
Even free WordPress blog is not going to allow you to make money
Recommendation:
I will suggest you a self-hosted wordpress.org blog with Bluehost.
Below is a list of some free blogging platforms where you can start your own blog.
WordPress.com (online)
WordPress.org (self-hosted)
Joomla
Drupal
Blogger
Tumblr
Wix
Medium
Squarespace
Blogster
Xanga
Xanco
Weebly
Magento
Typepad
LiveJournal
Ghost
Edublogs.com
InsaneJournal.com
JorunalFen.net
Each platform has been in detailed discussed below so that you might be in a position to choose the best one for you according to your need and requirement.
The most important thing while starting a blog, you are presenting yourself to humans, so, be honest about publishing everything in a truthful way, otherwise you will lose your followers before getting them.
With the passage of time, you'll be creating a useful and great content, upon getting help from your blog, the visitors will listen and respond to you quickly.
Now, let's take a detailed look at those options when it comes to blogging platforms.
Now, let's discuss each blogging platform in details, in order to give you a choice on "how to start a blog for free and make money"
Best Blogging Platforms
Choosing a blogging platform is very much important because once you have selected one then you have to go with it for a long time.
All the above-listed blogs are discussed here with all of their features and important points in support of how to start a blog for free and make money
How Do You Start a Blog at WordPress.org (Self-Hosted)
WordPress is a downloadable blogging / Website and content management system (CMS)
It is one of the most popular blogging platforms throughout the world having 26% share in the World Wide Web. It's the people no. 1 choice when going to online their personal or business presence.
You can easily download wordpress.org installable software and install it on an online web server
The installation will take effect in 15 to 50 minutes depending upon your knowledge about the installation process, the internet speed and the hardware you are using.
Learn How To Create A WordPress Blog – WordPress Site Tutorial – The Fanman Show.
Are you working on localhost, then this tutorial is for you How To Install WordPress With WampServer On Windows PC?
After the installation process has been completed, the next procedure is to publish your content online for the other users/visitors that is so easy. Just YouTube it or Google it, you'll find dozens of tutorials on how to publish a post in WordPress.
You'll obviously want your WordPress blog to be as visually compelling as possible. The great news is that WordPress offers a lot of free themes in the official directory (WordPress.org). There are thousands of more themes, some free and some for a cost, available from other providers.
Read my article on WordPress Design And Development Services –A Popular Choice Today
You also have to make your blog design visually compelling so that your fans do not get bored by the general appearance or outlook of your blog, this is why WordPress provides the facility to choose from the variety of free or paid themes, cost of paid themes may vary from one another depending on their manufacturer, code, functionality, and features.
Adding Extra Features to WordPress
If you want to add some extra functionality to your blog, then don't worry about the code. You just need plugins or extensions to install on your WordPress with some simple clicks.
Believe me, here are 52,761 plugins in the WordPress Official Plugin Directory, until now and their number is increasing with every passing minute.

So, these are the official plugins and there is a mighty number of plugins available on the outer source. Just make a search on Google and you'll find what you need.
The Self-hosted WordPress version is suitable for those bloggers, which are:
Looking to monetize their blog
All small and big commercial organizations which are going to add a blog to their website
Hobby Bloggers
In case, you have no interest in monetization of your blog with advertisement, then there is another version for you which is called WordPress.com
So let's proceed our research on How to start a blog for free and make money
How Do You Start a Blog at WordPress.com
WordPress Online is a pre-hosted blogging package that you don't need to setup, host, buying a domain name or to download a software.
You will be having a sub-domain with the domain "Wordpress.com" for example myblog.wordpress.com. It will be free of cost.
Just you need to Register/SignUp your account at WordPress.com and after following some steps, you can start blogging without any investment immediately.
WordPress.com offers three price plans:

$0 – Lifetime free for basic blogging needs.
$48/year – Personal Plan for professional bloggers
$96/year – Premium with some extra premium features for professional bloggers
$393/Year – for advanced business solutions
In basic plans you will get hundreds of themes with basic functionality, if you want some extra features then you have to shift to another Personal, Premium or Business plan according to the functionality and features your customized needs.
The Pre-hosted version of the WordPress (WordPress.com is suitable for the following bloggers and the business holders:
Hobby Bloggers: these are the bloggers which don't want to earn money, nor want to spend any penny, they want to do just for their hobby.
Professional Bloggers: these are professionals and subdomain doesn't matter for them.
 I think WordPress.com is better for those who want to learn and customized their settings with their own will. When they become cool with the customization or every inch of the WordPress front panel then they should move to WordPress.Org, in order to earn money from Blogging.
How Do You Start a Blog at Blogger
Finding the answer to our topic "how to start a blog for free and make money" will exclusively lead us towards Blogger
Some facts about Bloggers are: 
Blogger is owned by Google, another famous and the oldest blogging platform
Easy to SignUp through Google account
After SignUp, Blogger will install all the settings and will give you an admin panel. (The installation process of the Bloggers is the fastest one from all the other blogging platform)
Now, you can start blogging at Blogger
It is also a free platform available for Bloggers just like WordPress.com. You will also get a subdomain of your blog like myblog.blogspot.com
to get a domain of your own choice, you have to buy it from Blogger.
The following blogger may opt Blogger for blogging:
Personal Blogger
Hobby bloggers
How Do You Start a Blog on Tumblr
The Tumblr is a Social Media platform for Microblogging where bloggers can post/publish their content. This content may be in shape of text, images, short videos, photos, audios, URLs and famous quotes or anything else the bloggers wish to post.
At the same time, these bloggers are seeing visitor's activities and their opinion about your blog in shape of likes, comments, share, and Reblog.
It's a quite difficult to establish and maintain social presence but once achieved the other user's attention then you can make promotions and advertisement in the shape of short batches of content.
Like, WordPress.com and Blogger, you will also have a subdomain, for example, myblog.tumlr.com
Visit TheFanmanShow blog at Tumblr to get the idea to create Tumblr blog. https://www.tumblr.com/blog/thefanmanshow
If you want a custom domain of your own choice then you have to buy a custom domain from Tumblr.
You are also free to customize the look and feel of your Tumblr blog, but most of these customizations need to be purchased.
You can also customize your blog according to your needs and requirements, some themes of Tumblr are free to use and the others are purchased.
Who can Use Tumblr?
Tumblr is fit for:
Hobby bloggers
Microblogs
How Do You Start a Blog at Medium
The Medium is also a blogging platform for bloggers and publishers to post and publish their opinion, stories, and articles on various topics online.
Medium disperses the content with its algorithm and editorial curation among its vast community for upvoting. So there are better chances for the bloggers to get upvotes and recommendations for their content to get viral.
The Medium bloggers are given a profile name under which they publish content, for example, medium.com@thefanmanshow or medium.com@yourname
The bloggers can get a customized domain also but it needs a proper purchase.
The bloggers which have constantly changing nature, they can't use it because the Medium design doesn't change while you may find the variation when working with images and typography at the portal.
 Medium is Suitable For:
Hobby bloggers
Authorship writers: who want to make a brand in their writing
For those organizations who want a separate blog hosted at another place
How Do You Start a Blog at Ghost
It is downloadable and more similar to WordPress. You can download it and install it on a separate hosting.
Various pricing plans are available, in case you select Ghost as a blogging platform
A downloadable version is totally free of cost, however, it needs a separate hosting on a web server.
The hosted version named Pro ranges from $8 to $200 depending on the number of blogs run and the anticipated traffic volume. (Hosting is included with the Pro version)
The hosted versions Prices and Plans are:
Personal: Costs $19/month (billed annually) otherwise $29 billed monthly
Advance: Costs $39/month (billed annually) otherwise $59 billed monthly
Team: Costs $79/month (billed annually) otherwise $105 billed monthly
Business: Costs $199/month (billed annually) otherwise $269 billed monthly
If you want a custom domain name, you can purchase it and use Ghost as your platform.
You can select from a wide range of free themes.
Custom domains can also be purchased on Ghost with a variety of premium themes.
Ghost is suited for:
Bloggers who don't want to involve in coding issues and let the responsibility remain on Ghost teams
Hobby bloggers: keen on experimenting the web development
How Do You Start a Blog at Squarespace
Squarespace is also a great and user-friendly blogging platform for those who also need a web hosting service.
You can build online website with its gigantic website builder
Squarespace subscription charges vary from $22 to $25 per month to month but if billed annually, you can get extra discount ranges from $16 to $35 per month including a web hosting and a custom domain of your own choice.
Even you can start with a free signup trail, they don't require a credit card information from you.
If you want to start, you can select a student package which offers 50% discount for the first year of Squarespace.
One of the most interesting about Squarespace is you can switch their plans at any time.
Squarespace is easy to use and a user-friendly web interface which supports it as a most powerful website builder.
If you are not a programmer, then you don't need to worry about Squarespace has a drag and drop platform to simplify your work in designing and developing your websites.
Squarespace also has a variety of built-in template to choose from for your website. Like other, it also supports plugins to install and enhance your website functionality.
Squarespace is for those:
A Businessman who wants a business website with a blog option.
Fresher Bloggers which have zero knowledge about website building.
How Do You Start a Blog at Wix
Create Your Own Beautiful Website with Wix Editor
The Wix is also a blogging platform for, highly user-friendly, having a website builder with its own hosting plans.
Wix and Squarespace resemble with each other in various tools and plugins.
Wix websites are being popular today because of its extraordinary plugins facility.
With Wix Free Website Builder, you will get a mobile-friendly subdomain, for example, thefanmanshow.wix.com. If you want a custom domain at Wix, you can purchase their plans.
Wix is a drag and drop platform to change or customize your website. it contains 100s of built-in templates to choose from for your website.
Wix domain premium packages range from $4.50 to $24.50 per month.
With 0$, you can start a free Wix 14 days trial from 1GB storage to 200GBs of storage for your data.
So, go to wix.com and create free Wix website.
Wix is suited to the following types of bloggers:
A Businessman who wants a business website with a blog option.
Fresher Bloggers which have zero knowledge about website building.
How Do You Start a Blog at Drupal
Drupal is an open source blogging platform just like the WordPress.org.
Bloggers can manage their content quite easily with Drupal.
You can simply download Drupal software package from Drupal.org and upload it your localhost or an online server.
Unlike WordPress, Drupal does not provide any web hosting plan. So you need both web hosting and a domain name to make a website in Drupal.
Many third parties provide hostings and domain names for Drupal, for example, nowadays, Bluehost is exclusively charging only $2.95/month for Drupal users, which is 50% OFF!
Drupal is not a kiddy thing to opt, you need to be an expert in it, if you are a fresher blogger then in my recommendation, don't choose Drupal as a blogging platform.
Drupal is for those types of bloggers:
Skilled web developers
Well established businesses, who want to get rid of WordPress.org.
How Do You Start a Blog at Joomla!

Joomla.Org is an open source software content management system, just like WordPress.org.
Joomla is also a self-hosted solution, which means you will need to purchase a domain name and web hosting to use it.
Joomla is also a self-hosted blogging/website platform. Choosing Joomla will require buying a domain name and a hosting to store your website online available for others.
Thousands of free Joomla templates make Joomla the most powerful, user-friendly, flexible, customizable and adorable platform. Websites/blogs created in Joomla attract the users and visitors.
Like, WordPress, Joomla also has thousands of plugins to enhance the functionality of your blog website.
Along with the power comes some complexity. When compared to platforms like Blogger, Squarespace, or WordPress, Joomla has a longer learning curve.
Joomla is search engine friendly, Mobile-Friendly with unlimited multilingual designs which provide multi-users permission levels.
Joomla has no competition with other blogging platforms like WordPress, Squarespace, and Drupal, because it's an end thing while selecting as a blogging platform.
The only drawback of Joomla which restricts it from choosing is its limited support from the community.
However, you may select a live support which may cost you.
Joomla is helpful for the following bloggers:
Skilled web developers
Established business owners who, for whatever reason, don't want to use WordPress.org
Weebly – Do What You Love
Worry-free, if your choice is Weebly blogging platform.
Weebly is a hosted platform with full customization using drag and drop functionality. You need no coding, with guided setup, you can create a masterpiece blog.
It is really an easy job to do.
There are 100 of beautiful designs and templates at Weebly to make your blog an eye-catching blog, with video background and site stats.
Weebly highly customizable web interface makes it unique from others.
Weebly is free to use but after the trial period, its plans range from $8 to $25 per month
You can opt Weebly, f you are
Hobby bloggers
Businesses man and want to maintain a blog on your Weebly Website.
Edublogs
The Edublogs is a blogging platform for students, it was started in 2005. The Edublogs is powered by WordPress which provides a 100% free service to the student to make their blogs.
Edublogs contains 200 free templates to choose from.
It is easy to use, user-friendly with a limited customization.
Students from apart the world can start blogging with publishing posts and receiving wonderful comments.
Edublogs is suitable for:
Hobby bloggers
Students who want to learn and enhance their education.
Fully Understanding How to start a blog for free and make money?
Your question about how to start a blog and make money has two major parts:
The first part was "how to start a blog for free?"
And the second part is "how to make money through blogging?"
We have discussed a lot about how to make a blog for free now we are moving forward on how to make money through blogging?
The Second part "How to Start a Blog For Free and Make Money?"
The second part of the topic How to start a blog for free and make money is leading us behind the basic purpose of starting a blog that is obviously your reward in shape of handsome amount of money, comments from the visitors apart from the world, and a recognition as an entrepreneur.
Slow Down Blogging to Start Promotions
Creating a wonderful blog is not everything, you need fans.
To make money from blogging you need readers.
You must know what are you writing for? What is your audience and where they belong? Because all these questions are the basic elements in the promotion of your blog to make money.
You need to plan everything before starting a blog post.
You have established your blog with top posts now this is the step where you need to take a slight break.
I am not saying that stop publishing articles right now, rather slow down for a while and start increasing traffic to your blog through SEO, Social Media campaigns and Social Media Marketing etc. which we will discuss below
Giving an SEO Touch to Your Blog
Catching reader is not an ordinary thing. You need to work hard to bring traffic to your website for this you will require learning what is SEO / Search Engine Optimization the very basic element in bringing traffic towards your blog.
You also need to create an eye-catching content for your blog that must be SEO optimized in order to get rank in SERP.
If you are a fresher and don't know how to create a post on your blog then these 25 Best SEO Essentials for Every Long-Form Blog Post will help you to skyrocket your blog posts.
Social Media Marketing, the Best Place to Build Audience
The next things are engaging you in social media campaigns for your blog promotion.
Build the following profile and pages:
Facebook fan page
Google plus page:
Twitter profile
Tumblr profile
Pinterest Profile
Reddit
The statistics have shown that Social Media campaigns produce a Search Engine Higher Ranking factor in Google & Bing.
Read if you don't know What is Pinterest & Pinterest On Business blog? And What is Reddit? A Beginners Guide for Karma, Subreddit, Gold, Spam
Believe me, all the shares, likes and plus buttons matters a lot and can bring thousands of visitors to your blog.
 The Second Part of "How to Start a Blog For Free and Make Money?" is Explained
Above is the money map generated and produced by the Problogger in September 2016.
There are many ways to generate income from blogging.
These includes:
Advertisements
Affiliate Marketing
Events
Recurring Revenue
Promoting Offline Business
Services
Products
Other Income Stream
1. Advertisements
The first stop where blogger start, if you are generating a class of high traffic volume to your blog, then the advertisers are ready to buy an ad place at your blog.
I will suggest dealing direct ads to earn more money, however, if you are busy in other things then hire a third party agency, like Google AdSense, Chitika, Amazon affiliates, Info Links and pop cash etc.
But Google AdSense is the best contextual ad network for your blog. That will lead way for the purpose to "how to start a blog for free and make money"
Monetize Google AdSense
Once you will get your Alexa near about or below 40, 00000 and you have more than 100 to 300 visitors, the very first thing you need to do is apply for Google AdSense, if you are unaware of Google AdSense then don't worry follow this article Google AdSense – Complete Guide Step By Step with The Fanman Show.
If Google is rejecting your AdSense approval then read How to Get Approved for Google AdSense Account?
Believe me, with an extra slice of SEO efforts you can skyrocket your blog in Google and other search engines quite easily. If you have successfully monetized AdSense to your blog then you will start earning at every impression and every click.
Affiliate Earning
A research from our daily visitors has told that many of you are earning more from affiliate marketing than earning from AdSense.
But the major part involves, how better you are in affiliate marketing.
Many of you may be unaware of the affiliate marketing.If you are a fresher, then I will simplify that:
Affiliate income takes place when you link a product on your blog that is on sale on some other website (for example Amazon, Alibaba, Draz etc.) and if some of your blog visitors click on that link and end up in successful buying, you earn a reasonable commission on that sale.
So, don't worry if you don't want AdSense on your blog from any network, you can start affiliate or monetize both services, the choice is yours.
If you are going to choose just to monetize affiliate on your blog then what you write must be so convincing that your visitor ends up with a deal.
This article will help you a lot to select AdSense OR Affiliate Marketing: Which Option is Better to Make More Money
Events
I am surprised that why many bloggers don't start making money by running events on their blog.
These range from big conferences and events like our ProBlogger Conference which hosts hundreds of bloggers every year right down to smaller meet-ups for a blogger's readers where money is made either through charging readers to attend or by finding a sponsor for the event.
Just arrange and put an event on your blog to meet up in a conference which may hosts by many bloggers. The readers may be invited to attend that seminar and charged an amount on listening lectures by the bloggers on various informational topics.
The sample topics for Event may be:
"Do you want more traffic on your blog?"
"How to start a blog for free and make money?"
"How to Choose the Profitable Niche for your blog?"
"How to start a money making blog?"
"How to Make a Micro-Niche Site for Google AdSense?"
"All Ways to Make Money Online"
Nowadays, the online events or summit are getting popular now.
Recurring Income
If you are a successful blogger, and your fans want to read what you write then why don't you charge your fans/visitors to cash your brand.
The recurring income streams involved in a membership program to continue reading your blog, accessing some service tools or a coaching and educational video audio or textual series monthly or annually.
Promoting a Business
You can start a blog to influence your readers towards your products. You will start from zero but if your product is good and you take great reviews of your product, your blog can be a proven kingmaker for you.
Services
This is what makes a blogger true professional.
A way where most of the blogger make money from their blog by offering educational stuff, consultancy, writing, designing and developing and many other hundreds of services.
Products
You can even start selling eBooks, software and applications etc. at your blog to make the number one source of generating income source.
These virtual products can make your millionaire in a couple of months if you successfully maintain a quality product.
There are many bloggers who are selling virtual products as the main source of making money online.
I have seen in my blogging career that there are also a numbered bloggers who have started blogging later on their success, they started selling physical products by a home delivery by a third party.
Other Ways to Make Money from Blogging
There are also some other ways to make money from blogging.
Some of the bloggers ask for donations.
Also, many bloggers create a blog, advertise them, successfully generating sufficient traffic and attention of the visitors, they sell it on the internet to make money.
Readout more to get ideas on How To Make Money Via Blogging
Conclusion:
In my point of view, we have discussed a lot on "how to start a blog for free and make money?" while choosing the best blogging platform.
What you need to do is just, to sum up, all of your thoughts, passion, emotions and a lot of hard work to find what you are! And what you can do in your own world of thoughts.
Take a unique and wonderful idea as I choose "how to start a blog for free and make money" as the major part of my blog "The Fanman Show"
Buy a hosting and start blogging on your chosen idea.
One day maybe you will be the next millionaire blogger because you are the creator of your own destiny.
You can put a dent in the universe by your words.
Hope you have enjoyed how you can start a blog for free and make money.
Don't forget to share it with your friends and share your experience through your comments.
Best wishes!