How to connect Android to TV? How to view your phone or tablet screen on a TV?

The article will cover how to connect your android decives connected with TV wirelessly or wired with Miracast, Miracast, MHL SlimPorts etc.
You can see your Android's screen on your TV. It is a much interesting thing which we are describing here for you. Many apps and connectors are available in the market for the same purpose but the users cannot identify the exact device which is required to connect an Android device to TV. You can find all the material which is used to connect a mobile or tablet to the TV.
To connect your mobile using MHL with SlimPort by Micro USB or Micro-HDMI cable if supported.  For wireless connection, you can use Miracast or Chromecast standards.
Here we will describe all the possible ways to connect your Android Mobile or Tablet with TV.
If you want to boost your living room as an environment according to 21st century's requirements you should use the wireless standards to connect the Android device with TV. Every photo or video will be much clear with bright colors. You can imagine a mini cinema in your room by connecting your mobile to your room's TV.
Connecting Android to TV by HDMI:
            HDMI stands for High-Definition Multimedia Interface. This interface is basically a Dejure Standard which is used to connect devices. In the latest TVs, there is an HDMI port available which is used to connect the mobile devices through the cable. HDMI is inexpensive which make you able to watch High Definition videos on TV simultaneously. There would not be any pause to buffer the video. This quality of HDMI makes it popular among the users.
There are three standard sizes of HDMI plugs in the electronic market. You should buy according to your TV's requirements.
Regular HDMI which is also known as "Type A" These plugs are in full size and available to those devices where space is not a problem
Type C is a middle size of HDMI plugs. All the sockets given in small and hand used devices such as Mobiles and tablets are "Type C". These devices are also called "mini HDMI"
Type D is a third size of HDMI which available in the devices where very less space is offered. They are also known as micro HDMI.
In most of the tablets, the above-mentioned HDMI plugs are available which brings ease to you to connect your Android device with TV.
Connecting Android device to TV via MHL / SlimPort:
Most of the tablets do not have the HDMI ports which create a difficulty for the users to connect their tablet to TVs but there is a pair of mostly used standards which are merged that permits the users to connect different devices with display screens like TVs and LED devices.
These two standards are MHL (Mobile High-Definition Link) and SlimPort. Both allow the users to connect Android devices to Display Screens via USB ports.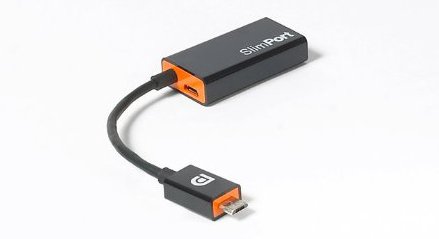 Both MHL and SlimPort work for eight video and audio channels. A breakout box is required to connect Android to TV.  A breakout box is a small sized dongle between Android and TV. It costs 10 to 25 Pounds to connect. This is little expensive than HDMI but it is used by a large number of Android mobile and Tablet makers.
The improved version of HML supports high resolution up to 4K. Same applies on SlimPort that means they both have identical specifications. Many TV and LED manufacturers used MHL and SlimPort. If your device does not support MHL and have SlimPort, you'll pay some extra for the use of MHL and you also need an extra adapter which gets 10 watts power from the host.
And if SlimPort is available you don't need an extra adapter and power. Breakout boxes usually come with USB port alternatively a charger can be connected here.
Connecting Androids to TV wirelessly:
Miracast Standard:

If you don't want the complexity of cables, you can connect your Androids wirelessly to TV display. In the case of Androids, you can connect to TVs in many ways, it is a good feature too. To connect the devices wirelessly an Ad-hoc network is established between the two devices through which the videos can go to the TV.
Miracast is one of the famous standards which used to connect the two devices without any wire or cable. Many latest TVs are supporting Miracast standard to reduce the complexity of extra hardware.
For excellent compression and good HD quality pictures, Miracast uses H.264. It is standard of video transmission from one device to another. Miracast also supports DRM that allows video streaming on TV. All the Androids from 4.2 to up support Miracast for video streaming.
Chromecast standard:

          It is also a Dejure Standard which is given by the Google and it is the best alternative of Miracast.  This is also used to connect the two devices wirelessly. This is cheaper up to 30 Pounds "Dongle" plugs into HDMI port on TV to connect the devices to provided wireless network.
It supports burgeoning which allows the users to do all research work and other legwork using TV screen. This saves some battery power of your Android device. Mirroring can be done on your android mobile with Chromecast. It means that anything can be displayed on the TV screen via this standard. Moreover, many Android devices supports Cast Screen feature which allows Screen Mirroring too. The iPhone or iPad users can not use this because iOS does not support any open standard. iOS users should buy Apple TV which costs them up to 79 Pounds.
If you are connecting your device wirelessly, there is a drawback to it. This can work when your Android's screen is on. This means it eats your Android's battery. Your charger should be connected continuously for uninterrupted video streaming.
Mirroring device is best to overcome this difficulty. No doubt it costs but it provides a best and un-interrupted view.  Many commercial services are available for mirroring such as iTV, iPlayer and Netflix. If you want convenient streaming, you will pay for it using mirroring screen. For example "Sky" is providing Mirror screen and it charge up to 12 Pounds per month. You can add two devices having a single subscription of Sky. On tablets there are no charges for Sky's subscription.
You'll find more about the latest apps on our website regularly to know about new coming up apps and devices.