How To Block Ads On Android
Oh no! Oopss! The various irritating, annoying and the disturbing ad on pop up disturbing you! We show you how to block ads on Android, including how to stop pop-up ads.
Let TheFanManShow share all the possible mechanisms of how to block ads on Pop-ups on Android smartphones/devices?
The ads on Android phones, tablets, and PC while using these are the most annoying and irritating ones always disturbing the activities and performance.
Whenever going to download the heavy web pages, then the addition of these pop-ups adds some more calculations in that size and you seriously need some extra bandwidth, storage, and Ram to deal with that messy ads on.
So why should you take so much pain with so much attention to pay the cost involved therein?
The marketing strategies have changed enough during the last few years.
Most of the users have been shifted from PC to Android phones in order to use the internet. And believe me, the Android users have not a single reason to suffer from these pop-ups appearing on their smartphones.
Try These:
How To Remove Virus From Android Phone Or Tablet?
How To Install MacOS Sierra 10.12 Final In VirtualBox On Windows 10
How To Restore Your IPhone, IPad, | How To Reset Forgotten Passcode On IOS Devices?
So everyone is angry with these ads on and pop-ups and want to get rid of these at once.
Let The FanMan Show start its first step to lock the ads on along with the pop up disturbing your android phones. Follow me step by step.
Method # 1 Use Opera Browser to Stop Ads On Android?
The new and free opera browser is equipped with the built-in default ad blocker in it. Simply install it on your Android device and avoid pop-ups, ads/advertisements while using internet or browsing. Your Android device, tablet or smartphone is now free from ads on.
download Opera Browser free from Google Play.
Method # 2 How to stop Ads on Android: Just block pop-ups on an Android browser?
This is the very common method to block the pop-ups just open your Android Browser (default) find the 3 dots icon on the top right-hand side "click on it" and select setting from the drop-down list.
Choose "Advanced" from the appeared menu
In the last step just "Enable" the "block pop-ups". Now you are safe and you'll never see an ad on your mobile screen.
Method # 3 How to block pop-up ads on Android on Chrome?
You can achieve a similar result with the Chrome browser. Open up Chrome, and then hit the three dots menu icon in the top right-hand corner. Scroll down to 'Settings' and select it.
The process is quite same on Google Chrome Browser too.
Start Chrome on your phone
Click on the 3 dots menu in the upper right corner of your cell phone.
Choose setting
Scroll down your Chrome to find the "Site Settings" just select it and then select the Pop-ups. Here most of you will see that the option is "Pop-ups blocked" by default and if it is blocked then don't try to change it but for some reasons if "Pop-Ups Allowed" is selected then change it at-once to stop the ads on your android device.
Method # 4 How to Block Ads on Android Devices by enabling Data Saver on Chrome?
First of all, let thefanmanshow tell you the need of enabling data Saver on Chrome Browser in order to block ads on or pop up coming to your android devices.
We always recommend all of our fanman to enable the data saver option as it compresses all the aspects of website's pages that are not required / not useable for your android device.
After performing compression it provides the smooth web browsing on your device and saves you from heavy internet cost for opening such cheap and irritating ads on your smartphones.
Anytime you can enable or disable this data saver option with a simple click. Let's try to know how it will be performed on Android devices.
Start Google Chrome browser
Again click on the 3 dot menu icon in the top right-side corner
Select settings
Scroll down to the "Data Saver" Option
You'll find a tiny slider here to put it on and off, just push it and ON it. To disable anytime just repeat the steps and move this slider to enable OFF option.
Method # 5 How to Block Ads on Android by Installing the Adblock Browser Android?
Well, there is a third-party browser which is commonly used nowadays and that is Adblock Browser for Android. Adsblock browser is free of cost and you can download it from Google Play Store.
How to install Adblock Browser in Android
It's really simple to install Adblock browser to your Android device
Simply, open Google Play Store on your Android device
Search for "Adblock" in the search app option in Google Play Store.
You'll find the required software just click on it to install it.
After installation, you can find it on your android screen desktop, use it without any ad pop-up appearing on your smart screen.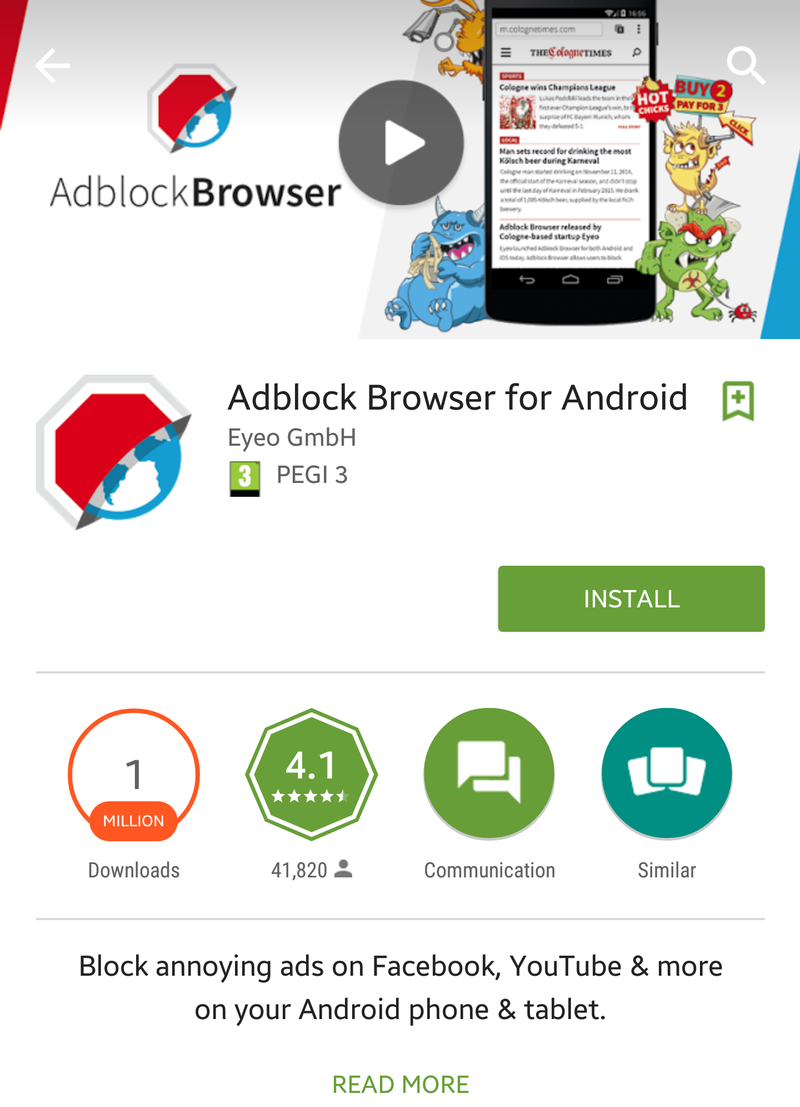 Method # 6 How to Block Ads on Android by installing ad-blocker on Chrome?
If after both blocking pop-ups on the Android browser, and enabling Data Saver on Chrome, you are still being troubled by pop-up ads on your Android, there is another step you can take.
By enabling data saver option and the installing the Adblock browser, still, you are facing ads or pop-ups on your android screen there is something else can be done and get rid of pop-ups ad on your android devices.
If your android phone is a rooted one then Download Adblock Plus and install it on your device.
But before installing Adblock plus on your device make sure, you have enabled the Unknown Sources option to do so just go to your Android phone Settings >> Security >> enable "Unknown Sources."
Now open your Chrome Browser copy paste the above link or just click here on the Ad-block Plus download link to download it.
Once downloaded, step forward to the File Manager and search for the downloaded software, click on it, it will start installing in your device.
How to install ad-blocker on Chrome in Non-Rooted Android Devices?
The non-rooted android device cannot pick up the network setting of your Wifi devices. In order to configure that manually, follow the steps below.
Open ad-block plus browser.
From the top right side corner click on the "configure"
Take a note for proxy configuration displayed.
Now come back to your Home Screen select settings then Wifi.
Just press for a few seconds the connected "network option" soon you'll find the other option "Modify Network."
Enable 'Show advanced options'.
Search for the 'Proxy settings', and change the values of the drop-down from 'None' to 'Manual'.
At the final step, write or embed the settings provided by Ad-Block Plus. In our solution settings provided by the Ad-Block Plus are:
Proxy = "localhost" and the Port = "2020"
Put the Settings and you'll find no ads on your Android screen.
Now, you better know, how to block ads on Android and speed up your phone's browser.
Share your experience with us through comments section, if you find this article helping