How to Enable Emojis on Android and iOS
Emojis are basically small drawing pictures which show different modes and emotions of anyone. Pictorial representation of emotions is effectively easy to understand and interesting way of communication that is the reason Emojis are becoming more popular in communicating others. The word "Emoji" is derived from the Japenes language which clearly means that texting others electronically using smileyes. There are many chatting and text apps which are in working and providing facility to the users to contact each others.
If we talk about the text messages, they become irritating sometimes especially when someone is deriving or having meal. When a lot of characters are used in any text message, the receiver also feels irritation to read a long written text. It is time-consuming too. In short, the text messaging is a flop when you don't have time to express your feelings. To overcome this glitch Emojis come into use. They are time-saving, they are better to express the momentary feelings and emotions. Many operating systems are offering Emojis as a built-in app but many of the users are not aware to use these emojis. The users don't know how to enable these built-in applications?
Our team "TheFanManShow.com" is expressing an easy way to enable these Emojis on Android Operating System and iPhone Operating System (iOS).
Enabling Emojis on Android:
          Many Smart Phones with Android Operating Systems are offering Emojis as a built in app but some are not. All the Smart Phones (which do not offer Emojis as a built-in app) have features to install the Emojis. The users after installing Emojis can use them with no trouble. If you have Emojis as built-in you should follow the given steps to enable Emojis:
Go to the Settings
Click on Language and Input
Go to Google Keyboard or Android Keyboard
Click on More Settings
Then Go to Add On Dictionaries
Finally, tap on Emojis for English Words
Now you can use Emojis on your mobile phone without any trouble. You can send your emotions with a single click and you can receive Emojis as well. You will write "Naughty" an emoji will appear and you can use it in your text.
You can create shortcuts for the same. All the steps below can be followed to have Emojis shortcuts.
Tap on your phone's Settings
Go to Language and Input
Select Android Keyboard or Google Keyboard
Click on More Settings
Find Personal Dictionary and click on it
Select "+" sign to add a new shortcut
Go to Phrase insert the Emoji you want, and click on Shortcut type the keyword that enables the Emoji you want
All these steps are used for those Smart Phones who supports Emojis as a built –in an app. If your Smart Phone does not support Emojis as the built-in app you can download Emoji Font3, Swiftkey and Swype to use Emojis.
Enabling Emojis on iOS:
As compared to Android Operating System the iOS doesn't provide a user-friendly environment to the customers. Many new users of iPhone feel difficulty with the interface design of iOS. Many complications occur when the new users of iPhone try to enable any app. So they try to find out tutorials to get aware about iOS. To provide them an easy and simplest step by step tutorial, we described some steps below to enable Emojis on iPhone.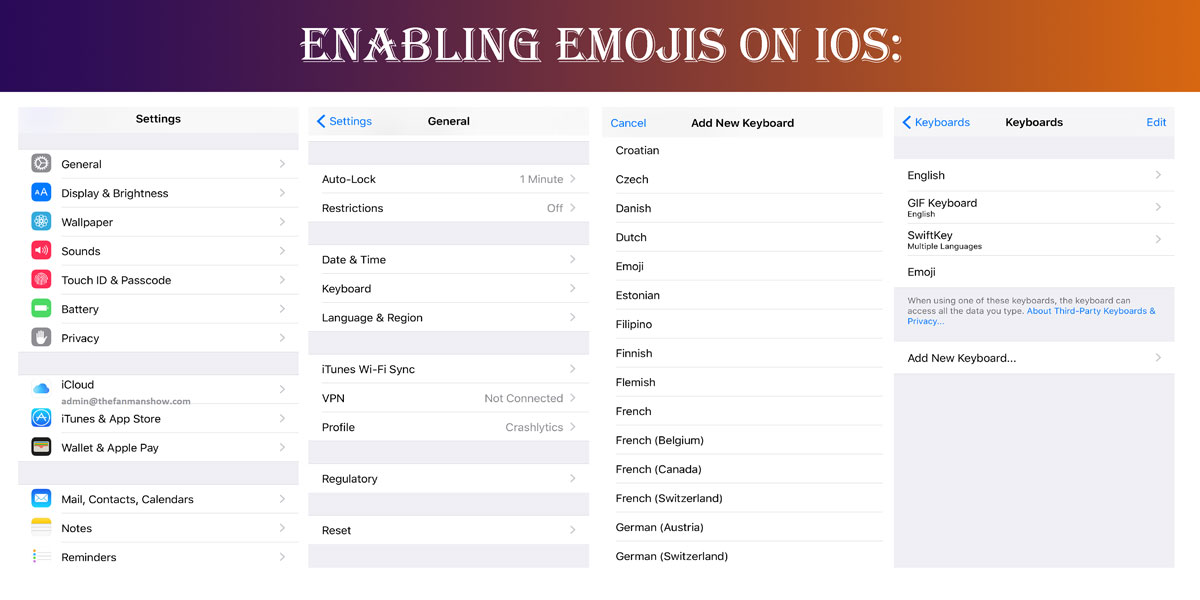 Tap on General
Select Keyboard
Find Add New Keyboard
And then select Emoji
That's all you have done to use Emojis on your iPhone now enjoy texting your friends with all kind of Emojis.
With a tough schedule life, everyone is busy. Nobody has time to get contact with his/her friends and even family friends are miles away from each other. Emojis provide a soft touch to express your feelings with text messages. Use it and keep enjoying your busy life.
To find out authentic information and perfect tutorials about any latest or old application kindly visit our website "TheFanManShow.com"